Why I threatened to abandon my husband if he goes for second term: Aisha Buhari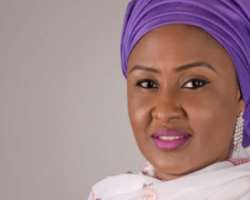 Aisha, wife of President Muhammadu Buhari,  on Saturday  disclosed why she was critical of her husband, and threatened to abandon him in a possible bid for a second term in office.
The wife of the president, who spoke while receiving the Vanguard Personality of the Year 2017 Awards, said her action was informed by her sense of justice.
She said she never meant to be confrontational or disrespectful to her husband.
Mrs. Aisha Buhari had in an interview with the British Broadcasting Corporation, BBC, in 2016 claimed that the Buhari administration had been hijacked.
She therefore vowed to distance herself from a second term bid if the situation persisted till 2019.
"If things continue like this up to 2019, I will not go out and campaign again and ask any woman to vote like I did before. I will never do it again," she said in the interview.
Represented by Halima, one of her daughters, at the award ceremony by one of the national newspapers  on Saturday , she said her comment in the BBC interview was her way of standing by the truth.
According to her, that was the way she was brought up and she had been living her life that way.
She stressed that she believed that it would be wrong for the administration not to justify the confidence reposed in it by the people of Nigeria, hence her threat.
He words:  "I wish to thank the management of Vanguard Media Limited for this unexpected award, in recognition of my humanitarian efforts towards improving the health and welfare of Nigerians particularly women, children and less privileged.
"One of the reasons adduced for honouring me was the interview I granted which some people saw as criticism to a government that I am part of. I need to state that my position was a result of my sense of justice and not confrontation or disrespect.
"I was brought up to stand by the truth and this is how I have always been. As we are all aware, Nigerians elected this administration based on the trust and confidence they have on my husband; I, therefore, feel that we are here to serve Nigeria to the best of our ability. Let me use this opportunity to state that I support my husband in this call to service and will continue to do so."