Hyginus Nweze Nwokwu: A Courageous Diplomat In Ebonyi Engine House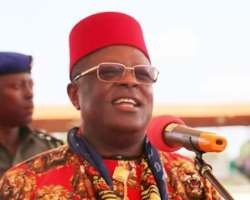 On Tuesday, 3rd April 2018, a landmark development took place in Ebonyi State - The Salt of the Nation. This particular development even though an internal one for young Ebonyi State is important because of its positive implications for both the government and the masses of Ebonyi in the impending days. On that day, the Divine Mandate administration in Ebonyi State under the eagle-eyed Governor David Nweze Umahi inaugurated Chief Hyginus Nweze Nwokwu as Secretary to the Government of Ebonyi State of Nigeria! By that singular development, Dr. Nwokwu, an unassuming but cerebral scholar, became the eighth person in the history of young and promise-laden Ebonyi state to occupy the position.
Dr. Hyginus Nweze Nwokwu's earthly sojourn began at his birth on 6th November, 1964 in the pastoral community of Okposhi Umuoghara in the present Ezza North Local Government Area of Ebonyi state. Nwokwu who was ostensibly imbued with socratic genes was driven by his insatiable hunger for knowledge through the entire rungs of the academic ladder until he got to its brim: Presently, he holds a Bachelor of Science degree in political science from the prestigious University of Nigeria Nsukka; a Masters' Degree and a Doctor of Philosophy (Ph.D) in International Relations from Enugu State University of Science and Technology, ESUT, Enugu among other academic laurels! As a devout academic and a committed apostle of intellectual development, Nwokwu has taught in many academic institutions and published many world-class research works for the benefit of the academia and the society in general.
Beyond academics, and by training and inclination, Dr. Hyginus Nweze Nwokwu is an activist for freedom, justice and social harmony. He demonstrated his disgust for injustice, inequity and tyranny against the despotic administration in Ebonyi state when he mounted the podium of a rally at Ebiaji in March 2011 to condemn the second civilian Governor of Ebonyi state, who was physically present in the rally, for his annihilation agenda against the people of Ezza Ezekuna. That Nwokwu did not care about his safety or the carrots dangled to him by the gerontocrat of the then Abacha Lodge in Abakaliki but was concerned about the plight of his oppressed Ezza Ezekuna people and the rest of Ebonyi masses gave Nwokwu out as a courageous apostle of the common good, a man of the people and Ebonyi version of Martin Luther King Jr! When the historic crisis over the soul of Ebonyi State which the 2015 General Election literally became in Ebonyi State pitted the despotic elitist conclave against Ebonyi masses, Hyginus Nweze Nwokwu naturally pitched his tent with the masses of Ebonyi state as the Deputy Director-General of the Divine Mandate Campaign Organization.
Untainted Hyginus Nweze Nwokwu has occupied several public offices where his trademark skills of a social engineer and mid-field politician has been on display. He was member, Ebonyi State Civil Service Commission 2003 - 2005; Ebonyi State Commissioner for Education 2006; Ebonyi State Commissioner for Rural Development 2007; Member, Ebonyi State Civil Service Commission 2008 and Deputy Director-general of Divine Mandate Organization 2015 till date. All these experiences and skills of Dr. Hyginus Nweze Nwokwu will come in handy as he assists Governor David Nweze Umahi, a Governor who by all ramifications is a divine donation for the total emancipation of Ebonyi state and her people, in discharging the duties arising from Umahi's social contract with Ebonyi people.
Hyginus Nweze Nwokwu is married to Mrs. Love Nwokwu and the lovely and joyous marriage is blessed with children. His hobbies include reading, football and charity.
From all indications, the appointment of Dr. Hyginus Nweze Nwokwu has reinforced the unflinching support of the people of Ezza nation for Governor David Nweze Umahi; and Ebonyi people can only expect the best from the now rejuvenated Divine Mandate Administration.
Disclaimer:

"The views/contents expressed in this article are the sole responsibility of the author(s) and do not necessarily reflect those of The Nigerian Voice. The Nigerian Voice will not be responsible or liable for any inaccurate or incorrect statements contained in this article."