Prof. Adesugba re-elected NARPO Chairman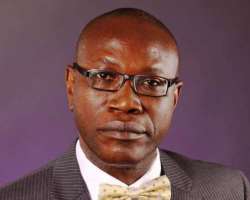 Prof. Adesoji Adesugba, the Vice President in charge of Information Communication Technology (ICT) who is also the Provost of the Abuja Chamber of Commerce and Industry (ACCI) training center known as Business Entrepreneurship Skills and Technology (BEST) has been returned unopposed as the Chairman of the National Association of Paramilitary Officers (NARPO), Abuja Chapter.
In the election conducted yesterday by the National General Secretary of the NARPO, Prof. Adesugba was unanimously elected to continue as its Chairman for another 4-year term.
Prof. Adesugba, according to members of the Association, have exhibited exemplary and progressive leadership in his earlier duties which led the Association to its present enviable position.
In his acceptance speech, Adesugba thanked the members of the Association for the confidence reposed in his leadership and promised to justify the confidence accorded him.
"I am once again humbled by my compatriots who have demonstrated a deep sense of unity of purpose by deciding that I continue to serve the Association in the capacity of Chairman.
"While I view myself as a dedicated servant of humanity, it is equally my desire to unequivocally point out that I will use my vast contact and network to impact positively on the welfare of NARPO members.
"It is a collective task that will go a long way to ensure that the sacrifices our members made while serving the nation by providing vibrant selfless service to the nation does not go unappreciated by all and sundry.
"I am more than ever determined to ensure that the welfare of Paramilitary retirees who had sacrificed their prime years to the service of the nation is not taken for granted.
He vouched for the determination of the new executives towards ensuring the execution of various welfare and capacity development initiatives of the Chapter saying that is the only way to ensure that value is created and shared in the organization.
Other Officers elected include: Vice Chairman: Mr. Moses Okhae, Secretary: Uche Owete Esq, Assistant Secretary: Monica Atuekwe; Treasurer: Muhammed Audi; Financial Secretary: Austine Anyali; Welfare Secretary: Andre Ogundeko and Publicity Secretary: Alhaji Adamu Isa Sidi.
All the newly elected Officers were sworn in shortly after the peaceful election by Babatunde Bamgboye Esq, a Solicitor and Advocate of the Supreme Court of Nigeria.