Herdsmen: Now That Cattles And Humans Share The Same Fate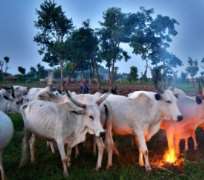 Perturbed by the Agatu massacre in Benue South Senatorial district of Benue state and pockets of killer herdsmen activities across other zones of the country, I had written the piece titled "Herdsmen Era: A Recipe for Another Civil War in Nigeria" which was published on January 26, 2017. In the about one thousand, one hundred and two worded article, I described the activities of the rampaging herdsmen as a deleterious cancer that is eating deep into our national fabric. In the same vein, I noted that if the activities of these herdsmen continued unabated, then Nigeria may be walking the isle of another civil war if not now, but in the nearest future. I expressed deep concerns about the blame games by the government, political and religious leaders, amidst other very salient issues.
Basked in the emotions and pains from sight of the gory photos of recent killings by herdsmen in Benue, Taraba and Kogi states, I am writing this piece as a continuation of my earlier piece. As the saying goes, whatever affects the nose, will surely make the eyes cry and it is high time Nigerians realized that death has no recourse to ethnicity, religion or political affiliation because as humans, we are all tied in a single garment of destiny and network of mutuality where what affects one directly, affects the other indirectly.
Recently, I was having a chat with my good friend and mentor, a Professor of Nupe extraction whom I admire and respect so much and he asked me "my president, what do is your opinion about the mundane killings by herdsmen"? I paused for a while, exhaled and simply responded after exchanging pleasantries that "there is more to the activities of the herdsmen than behooves the eyes". Indeed, there is more to it!
So many opinion writers had suggested that their activities are in line with the radicalization ideology of conquering territories by unleashing terror on vulnerable and unsuspecting communities. In the same vein, Some Christian leaders have in recent times, taken positions through preaching and messages which suggest that the activities of the dreaded herdsmen has an Islamization agenda undertone. The most worrisome of the trend, is the trade of blames and politicization of this menace.
Politicians and political parties look forward to where the next massacre will happen. At least, it gives them another opportunity to further score some cheap political points. Just recently, for daring to ask Nigerians to defend themselves against external aggressors, Gen. Theophilus Y. Danjuma, a former Minister of Defense, was heavily maligned as well as celebrated for his brevity in some quarters.
To prevent those at the receiving end of the killing bargain from taking laws into their own hands however, news emerged that security operatives embarked on a crackdown in Taraba in a bid to recover any illegal arms. However, in a twist of fate, while they were on this mission, the herdsmen whom no crackdaown for arms recovery was launched on, carried out another attack in Takum Local Government Area of Taraba State where the General in question hail from to send him atleast, a very strong message.
No doubt, the lethal activities of the herdsmen in different parts of the country especially in the middle-belt region have peculiarly become the major national security concern in recent times. The Gestapo tactics and proficiency with which these blood thirsty elements carry out their onslaughts have become very worrisome and thus, raising some questions about the real motives behind the strategic invasion.
To make things even more threatening is the revelation by the DSS which suggests that some of the perpetrators of these heinous crimes against innocent Nigerians are foreigners. This corroborates my earlier position. Indeed, there is more to their activities than behooves the eyes. Nigerian citizens have suddenly become strangers in their lands of birth. From the foregoing, several communities in the middle-belt region and other zones of the country have become very apprehensive about the ruthless incursion of the herdsmen because this is what history has taught them.
In the South West Nigeria, the entire farm of Olu Falae was set ablaze after his abduction by the same elements in the recent past. In my candid opinion, I feel this is another ploy by the fomenters of trouble to let Nigerians know that they now have a national reach and can set whoever or whatever they want ablaze anytime they want.
From importation of grasses for cows when humans can barely have a square meal, to grazing reserves and now to cattle colonies! Obviously, we are now in an era where cows and men share the same fate. If human beings now derive pleasure in slaughtering their fellow humans at the expense of cows that are meant to be slaughtered and eaten by man, then we need no babalawo, Imam or Pastor to remind us that we are heading for doom as a nation.
What I do not comprehend in its entirety is how anyone expects the entire states to cede fertile lands meant for farming to herdsmen whom security reports have suggested to be foreigners. Whether foreigners or indigenous herdsmen, it is glaring that the motive behind their adventure is to grab lands and have strategic power. Of course, it will make more sense when they hide under the guise of grazing reserves or colonies which ordinarily is tantamount to're-colonization' of Nigeria by herds of cattle under the watchful eyes of a section of its own people and conspirators from neighboring countries.
Nigerians must not forget that our country is a multi-ethnic and multi-religious nation. As such, no ethnic or religious group should, in any way, attempt to lord their demands over others, let alone taking over the land belonging to another group. This is the more reason why the federal government must rise up and find a lasting solution to this issue of urgent national importance especially now that political activities ahead of 2019 seem to be taking over the real deal of good governance before it gets out of control.
Comrade Omaga Daniel writes this piece from Nasarawa State.