Mixed reactions greet Buhari's declaration for re-election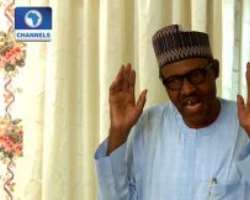 Nigerians have reacted to President Muhammadu Buhari's declaration of the intention to seek re-election.
President Buhari on Monday at a meeting of the National Executive Committee (NEC) of the All Progressives Congress (APC) leadership declared the intention to run for second term after months of speculation.
In reaction, Nigerians took to Twitter to voice their reaction to the President's declaration. While some were excited by the news, others expressed disapproval.
Some Nigerians in their reaction were of the opinion that Nigeria deserves a younger president, noting that President Buhari deserves to 'rest'.
Nigerian President Muhammadu Buhari will reportedly seek re-election at the age of 75 to govern Africa's most populous country which has a median age of 17.9 years
— Ryan Cummings (@Pol_Sec_Analyst) April 9, 2018
Re-election for real?? Nigeria is not Buhari's inheritance from his ancestors. Baba go and rest!!!
— Aondokator King Daniels (@meetkators) April 9, 2018
He has finally achieved his dream of being the president of Nigeria now that he's suppose to sit somewhere and count his days he's seeking re-election …… pic.twitter.com/wZD2JjM1of
— Horlardeemaygee (@Sam_khalifa1695) April 9, 2018
At 75 which is even his football age, what does Buhari want again from us? Affliction won't rise a second time #VoteBuhariOutIn2019
— Omadi (@iamtenseven) April 9, 2018
Others, however, backed the President's decision expressing believe that President Buhari deserves to rule the nation once again. Those in support of the President's decision asked critics to stop hate speech and instead promote their own candidate.
It is Buhari's right to contest, it is your own right not to vote for him….. but if you dont like his candidacy, promote your own candidate or better still, contest. Crying & wailing won't solve the matter.
— PostMaster (@O_ssai) April 9, 2018
President Buhari joins 2019 presidential race! !
Okokobioko is back to champion the movement of 1st force coalition!
— Okokobioko Master (@comradop) April 9, 2018
Some of ýou are tweeting RIP Buhari.
I'm not surprised with this level of foolishness and vile.
Just note that Buhari will live to fulfil God's purpose upon his life.
Your silly, hateful and asinine tweets can't stop it.
— Adebayo Bankole Akintunde (@AdeBanqie) April 9, 2018
I will be supporting and voting for buhari in 2019. If you are uncomfortable with this, kindly mind your business or block/unfollow me. I don't want to start exchanging unnecessary insults with anybody.
— segilola (@segilolaa) April 9, 2018
(Channels Tv)