UPDATE: Offa Attack: Saraki Calls IGP; Armored Personnel Carriers,Additional Police to be Deployed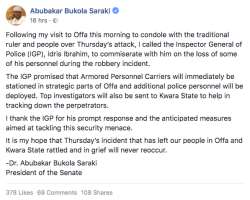 Offa Attack: Saraki Calls IGP
- Armored Personnel Carriers, Additional Police to be Deployed
President of the Senate, Dr. Abubakar Bukola Saraki, on Saturday spoke to the Inspector General of Police (IGP), Idris Ibrahim, to discuss long-term solutions to protect the lives and property of the people of Offa, following Thursday's coordinated attack on several establishments.
In a post on his Facebook page and a series of Tweets on his personal handle (@BukolaSaraki), the Senate President stated that he had called the IGP to both condole with him regarding the officers that were lost during Thursday's incident, as well as discuss the way forward.
He said:
"Following my visit to Offa this morning to condole with the traditional ruler and people over Thursday's attack, I called the Inspector General of Police (IGP), Idris Ibrahim, to commiserate with him on the loss of some of his personnel during the robbery incident.
"The IGP promised that Armored Personnel Carriers will immediately be stationed in strategic parts of Offa and additional police personnel will be deployed. Top investigators will also be sent to Kwara State to help in tracking down the perpetrators.
"I thank the IGP for his prompt response and the anticipated measures aimed at tackling this security menace.
"It is my hope that Thursday's incident that has left our people in Offa and Kwara State rattled and in grief will never reoccur."
You can read the full post here: https://www.facebook.com/bukola.saraki/posts/10156328398959962