Uganda: Professional Immigration Officials Booted For Opposing Contract With Germans Favored By Dictator's First Son-in-law Over U.s. System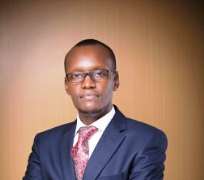 Two senior Ugandan immigration officials were recently fired because they opposed an attempt by dictator Yoweri Museveni's son-in-law to steer a $3.5 million contract for border-and-immigration technology systems to a German company, well-placed regime sources revealed.
The deal would displace an American system being put in place by Ugandan officials and pave the way for more lucrative projects down the line, regime sources say.
Standing in the way of a deal with Uganda for Veridos ID Solutions GmbH --which already has dealings in Uganda-- were Godfrey Sasaga, Director for Citizenship and Immigration Control, and Anthony Namara, Commissioner for immigration. At the time of their dismissal, Gen. Museveni offered four supposed reasons among which were allegedly: insubordination; abuse of office; economic sabotage; and, possible corruption.
Gen. Museveni also directed the police to investigate the two fired officers. The Pearl Times first reported the reason behind the dismissal of the immigration officials.
It is not clear whether the new deal has already been signed. The regime sources say Sasaga and Namara objected to awarding the contract to Veridos because the German company in addition to offering to implement an e-passport system, which Uganda currently lacks, also offered several systems that are already in place; meaning the company would be paid for systems Uganda did not need.
The main reason for the two opposing the deal was also because it was not competitively bid, meaning Veridos could land more lucrative no-bid work in the future. Veridos also does not have extensive experience in the kind of work Sasaga and Namara were hoping for. The Veridos systems, developed in 2013, have not been tested in other countries and Uganda would be the first, the regime officials say.
Sasaga and Namara were instrumental in establishing a new border management system called Personal Identification Secure Comparison and Evaluation System (PISCES), a system developed by the U.S. Department of State and implemented by several countries. This border management system can monitor entries, exits, work permits, certificates of residence, student passes, and visa control. The system is deployed by several countries including in Africa and Uganda was initially scheduled to put it in place in 2004.
Sasaga and Namara had already helped put in place all the components except for the e-passport component. Sasaga and Namara did not believe the German company was offering the best deal to Uganda's tax payers, the regime sources say.
The reason why the company became a front-runner was due to the involvement of Edwin Karugire, Gen. Museveni's son in law, the regime officials disclosed. Karugire is said to have connected company officials with Gen. Museveni. It is unclear whether Karugire has any financial stake or any other interests in the company.
Karugire, who is a lawyer is married to Gen. Museveni's daughter Natasha, He did not respond to detailed questions sent by e-mail message.
Earlier, Mareike Ahrens, Veridos's Vice President for Public Relations and Marketing Communications said: "Please understand that we are unable to comment on existing or future projects due to non-disclosure agreements that are customary in this sector."
Veridos asked that additional questions be sent in writing for this report; after they were submitted, the company did not respond. The company would not say what role, if any, Karugire has played in the deal-making.
Don Wanyama, a spokesperson for Gen. Museveni did not respond to questions about the Veridos deal sent by e-mail message.
According to the regime sources, Veridos smooth-talked Gen. Museveni by promising to also revamp Uganda Printing and Publishing Corporation (UPPC), a government-funded company that has been rocked by corruption scandals in the past. Veridos informed Gen. Museveni that it would retool UPPC so it can print passports, work permits, Ugandan currency, student identifications, checks, and other documents. Veridos entered a joint venture with UPPC in 2016 according to media accounts.
Last year, Bank of Uganda Governor Emmanuel Tumusiime-Mutebile had questioned that earlier deal saying Veridos had been awarded the contract "without due diligence and advertising." The Central bank chief's objection was brushed aside.
Ugandans tremble whenever they hear about a German company and identification-security systems. In one major scandal, a German company called Mühlbauer High Tech International was awarded a $99.7 million contract reportedly after Gen. Museveni met with the German ambassador to Uganda in 2001. At that time Uganda had a population of 33 million; by 2013, the company had issued only 401 identification cards, according to media reports.
Gen. Museveni, in power for 32 years, is notorious for running Uganda like a family enterprise. His wife, Janet Museveni who like Grace Mugabe, Zimbabwe's former First Lady, also has dubious academic papers is the country's minister of Education; his brother Gen. Salim Saleh, is a senior advisor on military affairs and on "wealth creation"; his son, Gen. Muhoozi Kainerugaba, was commander of the Special Forces, also in charge of presidential protection. The son has since lost the command; he is a presidential advisor to his father. He is married to the daughter of Sam Kutesa, Uganda's Foreign Affairs Minister, who together with Museveni are implicated in a U.S. money-laundering and bribe case in federal district court.
In 2014 in an exclusive interview on SaharaTV Zoe Bakoko Bakoru, a former Museveni minister whose portfolio included the National Social Security Fund said $5 million was siphoned off from the fund on a monthly basis and said the First family was involved in the theft. Gen. Museveni has reportedly been pressuring Bakoru to have the link to the interview removed by SaharaTV from YouTube.
(Source: http://www.blackstarnews.com/global-politics/africa/uganda-immigration-officials-said-booted-for-opposing-contract ).