PRESIDENT JONATHAN: ONE MONTH LATER; WHEN?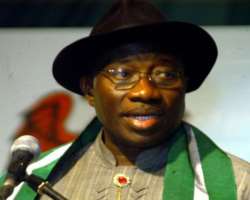 PHOTO: PRESIDENT GOODLUCK JONATHAN AT THE UNVEILING OF THE 50TH INDEPENDENCE ANNIVERSARY LOGO IN ABUJA.

It is one month today since former Vice President, and former Acting President, Goodluck Jonathan assumed office as Nigeria's 14th President. In an earlier article, I had advised President Jonathan to "hurry up" and not allow himself to get carried away with the trappings and schedule of office. I also advised elsewhere that he should do something about his wardrobe and learn to smile - to inspire and downplay burden.
I see that the latter advice has been taken too seriously by the President's wardrobe managers; he now looks like a potential catwalk model what with that "abeti aja" cap he donned to work on June 2, grinning from ear to ear like a lucky hunter of fortunes, obviously amused by the antics of his wardrobe stylists. But as for the other advice about focusing on the ball, (the reason for his being the centre of attraction), and remembering his earlier promise that his government will "hit the ground running," I don't seem to see any changes and it is within this framework that we should seek a review of Jonathan's one-month in office.
We may even step back in time and begin the assessment from February 9 when he took over as Acting President, (more than 100 days in office later) but whether we do that or stay within the scope of the last 30 days, the defining patterns remain the same. I am tempted to provide a list of activities that have so far been engaged in by the Jonathan Presidency, but as this page will not be enough to accommodate such a full list, I shall only provide a few examples and explanations to demonstrate that there has been too much focus in this Presidency on ceremonies rather than service. How? A close review indicates that much of the new man's time has been taken up by visits to him or by him, locally and abroad, handshakes, speeches, and such other activities which do not translate into any measurable benefit for average Nigerians either in the long or short term.
Nigerian civil servants are terrible: when they find in their hands a boss who enjoys travels or who mistakes receiving this or that delegation for performance, they will readily fill his daily schedule with time-wasters; that way, they protect the status quo. Jonathan faces the risk of spending valuable time on such activities; the danger is that he seems to be over-enjoying it. When will he begin to get his hands dirty with work? He had been acting President for more than 90 days before David Cameron assumed office as Prime Minister of Great Britain. He assumed full authority a week earlier than Cameron did in Britain, but the latter's government has made more qualitative policy movements, while Jonathan has received more visitors and done more travels.
He should perhaps be forgiven for the relative inaction of his early days as Acting President. With Mr. Yar'Adua allegedly on life support and the cabal claiming that he would soon return to office as President, Jonathan's Acting Presidency was initially tentative, if not somewhat distracted, but it soon began to stir alive. On February 12, the acting President held a meeting at the Presidential Villa with a team of eminent Nigerians including former Heads of State, Gowon, Shagari, Ernest Shonekan, and former Vice President Alex Ekwueme, and US envoy Johnny Carson. On Feb. 16, he hosted ECOWAS leaders and also became Chairman of the body. On February 19, he received in audience the departing Australian High Commissioner and Second Secretary of the Australian High Commission in Nigeria. On February 21, former US President George Bush, former US Secretary of State Condoleeza Rice and the US Ambassador to Nigeria, who had attended the ThisDay awards in Abuja visited Jonathan at the Aguda House.
By March, the frequency of visits had increased, with more persons and groups trooping to Abuja to see the new man. On March 6, former President of Ghana, John Jerry Rawlings went to see Jonathan, on March 22, it was the turn of House committee on Foreign Affairs and the 2009 Hajj delegation. On March 31, the Liberian President met with Jonathan. On April 8, the Acting President played host to a delegation from the Sultan of Sokoto. The high point in that early moment came between April 11 -14 when Acting President Goodluck Jonathan, on the invitation of the US President Barrack Obama travelled to the United States to attend the Nuclear Security Summit. This was Jonathan's first official trip abroad as Acting President, and a turning point for him. On that trip, he met with President Obama, Vice President Joe Biden, members of the US Council on Foreign Relations, the President of ExxonMobil, the World Bank President, Robert Zoellick, and had an interview with CNN's Christiane Amanpour.
On his return, the then Acting President continued to play host to many visitors: there was an overnight meeting with 28 PDP Governors around April 26, the Conference of Deputy Governors of Nigeria also visited, the Speakers of the Houses of Assembly also trooped to the Presidential Villa; on April 28, he received the President of the Republic of Benin, Boni Yayi. By the end of April, a certain local momentum and international attention had gathered around the Jonathan Presidency so distinctly that Nigerians soon resolved that even if his sick boss suddenly got well, Jonathan should be allowed to continue in office till May 29, 2011. Seeing this to be the case the now displaced Yar'Adua cabal embarked on a series of gambits to deceive the public into believing that their man would soon recover. He did not. With Yar'Adua's death on May 5, Jonathan assumed office the following morning and thus began the Jonathan Presidency.
But the pattern that had been established under the Acting Presidency was merely extended. Jonathan did not attend his boss's burial, for yet undisclosed reasons, it was not until May 8 that he travelled to Katsina to condole with the Yar'Adua family and the Emir of Katsina. He then declared a national week of mourning, and virtually every day, the Presidential Villa was besieged by visitors. On May 11 alone, President Jonathan hosted former Ghanaian President, John Kuffour, the British Ambassador to Nigeria, Bob Dewar, Nigerian state-Governors and the National Council of Traditional Rulers. His presidency has since been in full swing and the main activities as earlier noted have been in form of visits and travels, not just by the President but also his wife who previously had been in the shadows. On May 14, President Jonathan paid his first state visit to Rivers state.
The same day, his wife was in Asaba, Delta state to launch a Foundation set up by Mrs. Roli Uduaghan. A week later, Mrs. Jonathan jetted out to the United Arab Emirates – her friends say for a medical check up; her enemies claim this was a "gold-shopping junket." On May 20, the President travelled to Cameroun to attend that country's 50th independence anniversary celebrations. On May 22, the President travelled to Gombe state; on May 25, he was in Zamfara state. On May 28, Mrs. Jonathan won a motorcycle ("okada") in a Union Bank Lucky Draw, with the Associated Press (AP) reporting that "it appears as though Nigerian President Goodluck Jonathan's luck might have rubbed off on his wife." Visitors kept trooping to the villa all through May including President of Sierra Leone (May 18), General Abdusalami Abubakar and the ECOWAS Commission (May 24), Head of State of Niger (May 26), the Senate Leadership, the Benue Delegation, the Cameroonian Special Envoy, the US Ambassador, Robin Sanders and US Under Secretary of State, Maria Otelo (-all on May 27).
On May 30, President Jonathan left for France to attend the 25th Africa-France Summit on the invitation of French President Nicholas Sarkozy with whom he had a meeting. He also had a one on one session with Egyptian President Hosni Mubarak. On June 1, the President travelled from France to Saudi Arabia on "a thank you visit" to King Abdallah who reportedly took very good care of late Nigerian President Umaru Yar'Adua when he was a patient at the King Faisal Specialist Hospital. Jonathan returned in time for an EXCOF meeting on June 2. On Thursday, June 3, he rushed to Ibadan to attend the 60th birthday owambe party of Oyo State Governor Christopher Alao-Akala.
The President was in Ibadan for only a few hours, wearing aso ebi (why?) but nearly every market in the town was shut down: Aleshinloye, Beere, Gbagi, Dugbe, Bola Ige, Oje, Challenge, Oke-Ado.
Market women had to lose revenue so Alao-Akala could have his party and Jonathan could swallow amala and gbegiri! This week, President Jonathan is off to South Africa to watch the opening ceremony of the World Cup 2010 on the invitation of President Jacob Zuma. He has also been invited to the G8 summit in Muskoka, Canada, from June 25 -26, and a summit of West African Leaders to be hosted in France, on July 13. In between all of these, the President is obliged to visit other states of the Federation, and probably host a few foreign leaders. Meanwhile, the clock is ticking away.
In order not to give the impression however that this is all that President Jonathan has done since he assumed power, I'll like to draw attention to other useful details. Except for once or twice and during the period when a Federal cabinet was not in place, or when he was away, President Jonathan has chaired meetings of the Executive Council of the Federation. On April 6, he constituted a new Executive Council. On April 22, he signed the 2010 Budget into law, he has now sent a supplementary budget to the National Assembly. Other activities: he directed that INEC Chairman, Professor Maurice Iwu should proceed on terminal leave; he also set up a Presidential Advisory Committee led by General Theophilus Danjuma (he, of the $1 billion oil bloc sale fame); and a Presidential Projects Assessment Committee. He has appointed a Vice President in the person of Namadi Sambo, former Governor of Kaduna State.

He has also made useful speeches: in one he promised that his "government will hit the ground running", in another on May 29, he acknowledged the contributions of MKO Abiola, Alfred Rewane, Gani Fawehinmi, Shehu Yar'Adua etc to Nigerian democracy. He reinstated former EFCC Chairman, Nuhu Ribadu to the rank of an Assistant Inspector General of Police, directed that all charges in court against him be dropped, Ribadu is now back in town as a retired police AIG; Nasir el-Rufai too, key members of the Yar'Adua cabal who plotted against Ribadu and el-Rufai are in the mean time on the run in Dubai and elsewhere. Vincent Ogbulafor who used to treat Jonathan shabbily has been removed as Chairman of the ruling People's Democratic Party (PDP). General Olusegun Obasanjo who was less visible during the Yar'Adua years has now re-emerged as yet a major factor and as the holder of the unofficial title of Baba Oba of the Nigerian Presidency.
On June 3, President Jonathan sent a supplementary budget to the National Assembly: one of the elements of which is a request to be allowed to spend N10 billion to celebrate Nigeria's 50th Independence Anniversary, with N50 million specially reserved for the First Lady's proposed visit to orphanages and old people's homes! On June 1, the First Lady herself played hostess to female lawmakers in the National Assembly.
You may ask: so is this all that the Jonathan Presidency is all about, the substance of the last 30 days or the last 117 days? I think one point is clear: President Jonathan has been able to establish his authority as the man in charge, but it is so unfortunate that everything has now been reduced to his political ambition with regard to the 2011 Presidential election. It is the kind of politics which further distracts the administration so much that there have been reports of Jonathan posters on Abuja streets, protests by aggrieved Northerners that Jonathan must not run, counter protests from the South that Jonathan must run, and the emergence of a group which goes by the label: Movement for the Support of Dr Goodluck Jonathan (MOSoGJO – www.supportgoodluck.org).
Jonathan's emergence by its very fact, has brought much stability, and has raised Nigeria's standing with the international community. Yar'Adua as President was not available in the international circuit, Jonathan is; the world now has a Nigerian President that they can relate to. But the truth is that this is not something that has been worked for and achieved: Nigeria's strategic importance guarantees that already. But it is this given factor that President Jonathan seems to be exploiting. There should be a lot more substance to his Presidency, even with the limited time at his disposal.
What I see is that so far, it is President Jonathan that is drawing all the benefits from his presidency and not the people. Ahead of the 2011 elections, he is already campaigning for his own election as President. He is Chairman of ECOWAS; he has met all the leaders in the region and hosted some of them in Abuja: he is the man they know. He is also making huge forays internationally, acquiring required name recognition and pumping the right hands. He has behind him the entire machinery of incumbency.
Traditional rulers, Governors, Deputy Governors are all falling over themselves to see him: they know he is in charge, they know he controls the oil blocs and a lot more, and when they visit, I bet he doesn't fail to let them know what is best for them. Where is that candidate who would show up later and claim that he or she too wants to be President? Cleverly, Jonathan is pushing himself ahead. He is playing politics and not working. His job requires study and reflection and a sense of mission. Where and how does he get that if he is perpetually receiving visitors and junketing all over the place? He has a Vice President but after the initial politics of his nomination and appointment, Namadi Sambo seems to have turned into wallpaper.
Goodluck Jonathan and his wife, Patience may have all the luck in the world including such luck that makes her a curious winner of an okada motorcycle (!), but Nigerians expect a lot more. He should cut out official visits inside Nigeria. He should travel less, internationally, and if he must, let him travel light and briskly. So, Mr. President, when?
Disclaimer:

"The views/contents expressed in this article are the sole responsibility of the author(s) and do not necessarily reflect those of The Nigerian Voice. The Nigerian Voice will not be responsible or liable for any inaccurate or incorrect statements contained in this article."
Articles by thewillnigeria.com