Imo APC Is One -        Barr Chima Anozie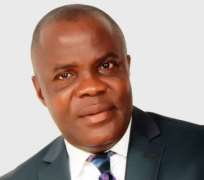 Barr Chima Anozie (Home Base) on Easter Sunday, April 1 2018, while taking his visitors (who paid him courtesy visit in his residence at Orji in Owerri) round his historic farm, boasted that he will make food abundant in Imo if he becomes Governor come 2019. The tour, which suddenly turned into an interactive session, covered his historic yam barn, poultry, fish pond, vegetable garden, plantain and banana plantation, etc, which are mini mixed farming and an annex to his complex farms and extension services in some parts of the State. Below are some crucial responses from questions fielded by inquisitive Imolites during the interaction.
Sir, we are happy you are in the race for the Imo 2019, what is happening in the State is confusing and some see you as an aspirant who none knows the side he is coming from. Are you from the Rescue Mission or Destiny Camp or is Home Base its separate camp in Imo APC?
Yeah! I'm in the race. I'm coming from God's side and on a divine mandate, for real and not for settlement. I've also formally informed our Governor, the apex leader of APC in Imo State about my ambition. I'm not sent by anyone. I'm on my own and the alternative to the answer that will fail. I'm simply an APC chieftain and 2019 gubernatorial aspirant. I'm coming from God's mandate; that's why I named my campaign group, the Divine Mandate Organisation. Imo APC is one, divided by interests and privacies associated with electioneering scheming, ploys, gimmicks and strategies, and as such, one is not supposed to let the other know his best arsenals. They are highly personal, private and customised, till after the primaries when all will join hands in synergy to deliver the party under the successful ticket and flag bearer. We've usual political factions founded on electioneering confidentiality, aiming at a definite finality- The Douglas again come 2019, for which purpose we shall reunite as a family after the primaries. That's why Imo APC seems to have splits. We're one, now and always, and determined to continue ruling Imo.
For close to 100 days now, Imo APC has been heated up by crisis. What gives you the staying power to continue while many earnestly flew to other parties and some display partial interests in the race?
Crisis is a very essential feature for advancement and avant-gardism. It provides grounds for rational progress, especially when it is constructive, not violent, but results from clash of interests, opinions and choices. It makes for thorough assessment, which brings up good results at the end. I remember the Hegelian and Marxist Dialectics we were taught in School. Crisis erupts as antithesis of a thesis; after which there is a synthesis, which brings desirable progress. Imo APC has experienced some theses, which caused the antitheses (you see as crisis), and we have stepped into the synthesis period that will catapult the party to unimaginable height; to the abashment of the opposition parties. I remain in the dialectics to ensure we pass through these necessary stages of advancement and thus retain the ruling power come 2019. I am Nwo Oboo Ogu, a pacifist, and as such need not participate in the fight or run away. I'm mandated by God to see Imo APC still continue ruling Imo after Governor Okorocha, and as such will not flee the divine mission.
Sir, of a truth, the Rescue Mission and Destiny Camp seem world apart. Do you think Imo APC will make peaceful primaries? And how are you able to manage your status as pacifist?
I have said it before. Imo APC is one, divided by interests, rationales for the interests and the desired privacies need for such. For instance, I'm in very good terms with my mentor, the distinguished Senator Ifeanyi Araraume, (the leader of the Destiny Camp). He has made APC proudly firm in the State. I'm also in excellent followership of my leader for live, His Excellency, the Executive Governor of Imo State, Owelle Rochas Anayo Ethelbert Okorocha and his Rescue Mission marshals. He made politics competitive in the State. The two are not enemies, but separated by interests and visions. I've mine too, and each of these interests must be far away kept apart to make for genuine competitive primaries and democracy. What is necessary is to keep absolute control of exaggerations and excesses of supporters of these camps. We're on top of the situation. The two camps are not world-apart but have contributed to make APC spread in dual dimensions into the grassroots. That's why opposition parties jitter.
What is your stake in the APC tenure elongation and PMB's declaration of it as illegal?
Of a truth, the tenure elongation was a blessing in disguise. It aimed at the party's unity, especially given the proximity of the general elections. Without it, APC risks stepping into national crisis as lists will abound and each interest leader will scheme and skim for his candidates, and is ready to spend millions of naira to make sure the candidates scale through. But, the President has brought in the other side of the coin about the elongation, exposing the legal and constitutional implications of it, especially given the declarations of the 1999 Nigerian Constitution (Section 233,1) that affirmed periodic elections for party executives at regular intervals of 4 years. He also cited the APC Constitution (Article 17, 1 and 13.2b) that limits the tenure of elected officers to 4 years, with a single tenure renewal, which comes by elections. Legally PMB is right, given the implications of violating already existing constitutional stipulations, which none knows what the opposition parties have in mind against the party, come 2019. As a lawyer, the rule must be harkened to, but in manners that do not deny the aim of the tenure elongation. What one calls his dog is what it answers. I hope you understand what I mean?
Do you see John Oyegun piloting a productive leadership in APC and is Adams Oshiomhole a good change for him?
When one works well, he must be appreciated. Ingratitude is divine default. John Oyegun leads APC well, that was why his-led NWC received the tenure elongation. If he had piloted the party into unproductiveness, his change clamour would have started long ago. But as rulebooks dictate change after tenure expiration, the constitution must be obeyed. He can contest and win if the party still sees him valid. Oshiomole can also win, if the party sees him a better replacement for Oyegun. All depends on the party's assessment on them. One may not know what he has or is about to have until he loses it, and one can be under-looked while he has what it takes for desired advancement. That is the essence of appreciation, assessment and voting. The change clamour is like a revolution, and as Fidel Castro said, "a revolution is not a bed of roses. A revolution is a struggle between the future and the past."
Last farming harvest season, you won an award for the products of your farm, and one still sees abundant of the products this year. To what extent can one imitate you, given the economic crisis the nation experiences?
Agriculture is the bedrock of any growing society for the sustainability of food and for the development of the economy. Imo State all these while lacks in-depth insight in the agricultural sector. I am one guber aspirant that has deep interest in the development of the agric sector. I mean to bring food to the door-posts of Imolites. I've practised it several years, seen its pragmatism, and what it contributes to personal economy. I'm sure that as the Governor of Imo State come 2019, I will make food abundant in the State. During the last exhibition of yam products in Imo State, my yam products scored high and I was awarded Ezeji title with a token of N150,000 all to the credit of my Home Base farms. Come and join me to 'foodify' Imo. I've pragmatic blue prints for ensuring abundant food in the State. Soon, I'll expose its silhouette to the State. We need come together to build Imo State where hunger will not be the order of the day. Ohaji, Egbema, Oguta and Ngor Okpala are enough to feed the entire Southeast geopolitical zone. We'll have, eat and export excess food and farm products from 2019 upwards.
You mean each Imolite can have this sort of quality barn, farm products and stocks if you become Governor?
Yes! But it depends on individual volition. You can't compel an unwilling palm to cultivate or an indisposed pocket to sponsor such. If I, who have three professions, and assiduously use them to set trap for money, which at least one catches money daily, can have and produce this sort of products, why can't you? No matter the expanse- little or wide, you can do it and perhaps better. I will ensure regular agricultural seminar. Agriculture will be of utmost priority to me. Prices of farms products will fall; markets for special agric products will be plenty in the State, loans and subventions of various degrees, as well as government supply of needful farming materials, will be at the reach of local, peasant and large scale farmers, all plotted within the cooperative societies' network.