APC governors shop for new chairman; Buhari, Tinubu root for Oshiomhole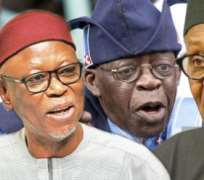 After days of going back and forth, governors elected on the platform of the ruling All Progressives Congress (APC) may have resolved to begin search for a new party chairman that would lead the party to next year's general elections.
By the provisions of the party's constitution, the tenure of its current national chairman, Chief John Odigie-Oyegunand all members of the National Working Committee (NWC) would come to an end by June this year.
Already, 15 governors elected on the platform of the party, who are disposed to having Odigie-Oyegun retain his seat, after failing to further convince Buhari to renounce his latest position, Daily Sun gathered, are narrowing their search beyond Edo State and even the South-south.
According to one of the sources, the pro-Odigie-Oyegun governors for now have just two options: to push for his re-election or get a candidate outside of Edo and even the South-south. A North-west governor is the leader of the pro-Odigie-Oyegun group, while a governor from the South-east leads the nine anti-Oyegun group.
Efforts to get Odigie-Oyegun's reaction as to whether he would present himself for reelection did not yield any positive result as at press time yesterday.
But a source close to the party chairman said: "I can't say for now if he would re-contest. He is yet to discuss that with me. I will not, however, be surprised if he decides not to run. What I can also tell you is that Chief and his supporters may work to throw up a candidate different from the one we all know for now. We are yet to micro-zone; if and when we do, a South-easterner may end up emerging as the new party chairman."
Former senate president, Ken Nnamani is being considered as option 'B' by the pro-Odigie-Oyegun group, another chieftain of the party volunteered.
Speaking in a similar vein, a chieftain of the party from Kaduna said they were unanimous in their decision to push for Odigie-Oyegun's replacement, adding that "we want anybody but Oyegun."
Asked if President Buhari was disposed to having the immediate past Edo governor, Adams Oshiomhole as a replacement for Odigie-Oyegun, he said: "If you observe very well, I think Buhari has made up his mind to go with Tinubu on this project. And Adams is Tinubu's project for now. The governors in the end will have no choice but to support whatever Buhari wants, because they won't want to be seen challenging Mr. President.
"I am not aware that anybody from the South-east is being considered for the position. But again, politics is dynamic. We can wake up tomorrow now and the story changes.
"As at this (Wednesday) night, however, Adams is the favourite. Look, ask around, Baba (Buhari) has been favourably disposed to having him as chairman shortly after he left office. But Oyegun turned down the ambassadorial appointment he was offered. That was why the change could not be effected before now," the source added.
Meanwhile, five of the governors who met again with the president barely 24 hours after a meeting to resolve the tenure elongation issue was deadlocked, rose from another meeting, yesterday, with a resolve to abide by the party's constitution and hold ward congresses.
Buhari had at the party's National Executive Committee (NEC) meeting of March 27 in Abuja, said the National Working Committee (NWC) tenure extension decided at NEC's meeting on February 27 was illegal and unconstitutional.(The SUN)