PDP: Â Reform Forum Flays Yuguda, Supports Nwodo's Nomination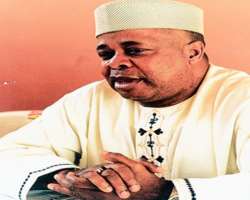 PHOTO: PDP REFORM FORUM CHAIRMAN, SENATOR KEN NNAMANI.
ABUJA, June 11, (THEWILL) - Following the statement credited to the Governor of Bauchi State, Mallam Isa Yuguda that he has not seen any reform within the ruling party, the Peoples Democratic Party (PDP) Reforms Forum early Friday carpeted him stating that internal democracy was important for the party to move forward.
The Governor was quoted as saying: 'as far as I am concerned, I have not seen anything wrong with the status quo to warrant reform.'
But speaking to journalists in Abuja, Chairman of the Steering Committee of the Forum Senator Ken Nnamani, who deliberately declined to name of the governor, said it remained a tragedy for a democratically elected governor to say that there is nothing wrong with the non-existence of internal democracy in the PDP.
But braving all odds as expected former Federal Capital Territory (FCT) Minister Mallam Nasir El-Rufai said the governor was Bauchi State governor Isa Yuguda whom Nnamani chorused, was not elected on the PDP platform.
"Thank you Mr. Chairman, the person being referred to has to do with a governor who was not elected on the platform of the party and gave an interview saying that as far as he is concerned there was no need for reform. This governor is the current governor of Bauchi State Isa Yuguda, "he said.
"I'm surprised that he is saying that because it was lack of internal democracy in PDP that pushed him out of the party. He went to All Nigeria Peoples Party (ANPP), contested and won the election and married someone's wife and now moved back to PDP. He moved back to PDP and now he is saying that everything in PDP is fine," haba! El-Rufai queried.
"If everything in PDP was fine, why did he have to move out and move in? Anyone that says that the current situation which Senator Ken Nnamani rightly articulated of people picking and drawing up list to say that these are candidates; these are executives; these are local government chairmen and this does not warrant reforms, I think there is something wrong," he further explained.
"I think we can call a spade a spade and mention his name and say that why did you leave the party in the first place if there is no problem. He was disqualified from primaries on the ground that he was not even from Bauchi State. Those are the sort of things that happen in the party and those are the such of things that Reform Forum wants to ensure that they don't happen in the future," Mallam El-Rufia concluded.
Senator Nnamani also said it was unfortunate that media reports insinuated that President Goodluck Jonathan had authorized their demand for constitutional reform in the party, stressing that the position was wrong as he said "at no time did we insinuate nor give the impression that we are being encouraged, maneuvered or sponsored by external forces."
At the question-and-answer session, Nnamani said some state Chief Executives lied that the Forum was working against them, explaining that any reform in PDP will help them even as they cannot be singled out for reforms because they are party leaders.
The Forum said their role is to carve out a level playing ground for all aspirants through confirmation by ballot box as any hard working Governor would not have cause to fear.
When asked of the Forum's position on the choice of Dr. Nwodo as PDP National Chairman Nominee, Nnamani said the decision of President Jonathan and that of PDP Caucus and Board of Trustees (BOT) were in line with the party's principles and procedures.
He revealed that Forum's reform agenda which was submitted to NWC had been approved by PDP National Caucus and BOT and expressed hope that the National Executive Committee (NEC) will approve the agenda in order to move the party forward.