International Journal Of Health, Safety And Environment (ijhse) Calls For Research Articles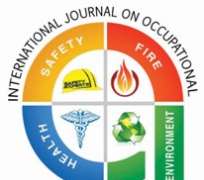 International Journal of Health, Safety and Environment (IJHSE) wishes to invite researchers, scholars, scientists et cetera, in all areas of Health, Safety and Environment (IJHSE) to submit review, full length research articles for its peer review, monthly, open access publication.
Submission of original articles, expert reviews, case studies, surveys, opinions, commentaries and essays in all fields of Ecological Risk Assessment and Management, Economics, social benefit of Health, Safety, and Environment, Ecosystem protection, restoration and recovery, Emerging Issues in Health, Environment, and Safety, Environment, Health and Safety issues in Disasters management, Environment, Safety, and health legislation and its implications for policy making, Environmental Epidemiology, Environmental Health Risk Assessment and Management, Environmental Heath Impact Assessment, Environmental Impact Assessment, Environmental Management of/for Pest and Vector Control, Environmental Policy and Management, Environmental Pollution detection, management/Control Systems and Technologies, Occupational Safety, Environmental Toxicology (Mutagen, Carcinogen, Teratogen, Environmental terrorism(eco-terrorism/Effects of terrorism on Health, Safety and Environment) et cetera (etc), Food Safety and Hygiene, Hazardous Materials and Toxic Substances Management, Psychological and Social Aspects Of Environmental Health, The Health Implications of a Built Environment, any other issues related to Health, Safety, and Environment iswelcomed.
Manuscripts are submitted in Microsoft Word (MS) format. Figures and table should be submitted alongside the main manuscript or attached as supporting documents. Please see our Instruction for Authors .
Submissions of articles are highly anticipated.
All manuscript(s), inquiry and correspondence should be sent to the email: [email protected] , [email protected] OR [email protected] .
Visit the links below for a list of other journals published by Academia Scholarly Journals
InternationalJournal of Wildlife and Endangered Species Conservation (IJWESC)
InternationalJournal of Human Kinetic and Sporting Science (IJHKSS)
InternationalJournal of Advances in Medical Sciences and Biotechnology (IJAMSB)
InternationalJournal of Agricultural Research, Sustainability, and Food Sufficiency(IJARSFS)
InternationalJournal of Advances in Scientific Research and Reviews (IJASRR)
InternationalJournal of Management Sciences (IJMS)
InternationalJournal of Advances in Herbal and Alternative Medicine (IJAHAM)
InternationalJournal of Sustainable Transport and Logistics (IJSTL) .
InternationalJournal of Religions and Traditions (IJRT)
Indexed by Directory of Research Journals Indexing: www.drji.org