INEC Chair: Tough Senate Screening Awaits Jega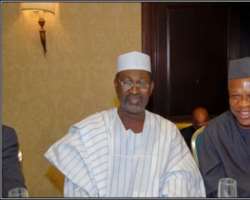 PHOTO: A FILE PHOTO TAKEN AT AN INEC FUNCTION IN THE UNITED STATES IN MAY 2006 SHOWS NEW CHAIRMAN, PROFESSOR ATTAHIRU JEGA (L) WITH FORMER CHAIRMAN PROFESSOR MAURICE IWU. Image: TRANSATLANTICTIMES.
ABUJA, June 09, (THEWILL) - As part of efforts geared towards entrenching free and fair elections by 2011, the Independent National Electoral Commission (INEC) Chair nominee, Professor Attahiru Jega will be subjected to serious screening at the upper chamber of the National Assembly, chairman Senate Committee on Information and Media, Ayogu Eze has hinted.
Speaking to journalists on the nomination of Professor Jega in Abuja, Eze said the Senate would set in motion the procedures leading to the conduct of the 2011 polls stressing that "As we clamour for transparency in the conduct of elections we are going to begin by screening the INEC chairman and the commissioners in the open. We are getting a chairman and ten commissioners. It is going to be a tedious screening exercise," Ayogu Eze said.
"We call on all Nigerians to provide information on those nominated. If there are people who feel there are things they hold against the nominees, they should make them available to us through petitions that are certified," he emphasized.
Considering the fact that the Senate is on recess and may unlikely break it for the screening and eventual confirmation of the nominees, Eze said, "There is nothing urgent now to require our breaking the recess, the holiday is almost ending. I believe there is no emergency, before they are through with the documentation, we will be back and we will not delay the confirmation beyond the week of our return."
THE INEC chairman nominee, Jega and the others would face the whole Senate for screening and confirmation when the Senate resumes from its recess.