Why I want to be Governor of Osun after Arergbesola -Dr Amidu Tadese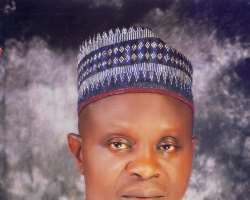 A governorship aspirant on the platform of the Peoples' Democratic Party (PDP) for the September 22nd gubernatorial election in Osun state, Dr Amidu Tadese has disclosed that his decision to contest was born out of his desire to use his know-how as a political scientist to affect the lives of the people of the state positively.
Tadese who is currently the Ag. Head of Department of Political Science and Public Administration, College of Management and Social Sciences,Fountain University; Osogbo berated the administration of the incumbent governor, Mr Rauf Aregbesola for lacking human-face and subjecting the people of the state to abject poverty.
The PDP aspirant who holds a PhD in Public Administration from the Obafemi Awolowo University, Ile-Ife said his agenda to turn the state around would focus more on provision of quality education, adequate security for all residents of the state, quality health care delivery and ensure welfare of workers.
Tadese was elected into Osun State House of Assembly, Osogbo in 1991, where he served as Chief Whip and also served in various committees including the House Committee on Education, House Committee on Finance, Commerce and Cooperative, House Committee on Land, Boundary Dispute and Allied Matters, House Committee on Education & Social Services between January 1992 and November 1993.
The Iwo-born University lecturer of Human Resources Manager (HRM) and politician was the Assistance Organizing Secretary of the defunct Social Democratic Party in the Old Oyo State in 1991,before this, he was the Administrative Secretary of the party in IWO Local government. 7
Dr Tadese was a member of the Osun State Property Development Corporation, Osogbo (OSPDC) where he served as the Chairman of the Committee on Public Relations between 2000 and 2003.
Dr Tadese is a member of reputable professional organizations and social association home and abroad and he has travelled far and wide. He has written and published scholarly researched articles and he has attended high power seminars and training in Nigeria and overseas.