N5.2B Rural Electrification: NGO Wants Bankole Arraigned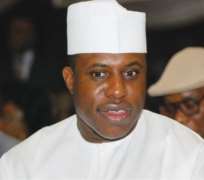 ABUJA, June 08, (THEWILL) - A Non Governmental Organization (NGO), Human Rights, Justice and Peace Foundation (HRJPF) based in Aba in Abia state of Nigeria has called for the arraignment of the Speaker of the House of Representatives, Dimeji Bankole over an alleged illegal withdrawal of N5.2 Billion Rural Electrification from the Central Bank of Nigeria.
President of the HRJPF, Comrade Chidi Nwosu in a signed petition sent to the Economic and Financial Crimes Commission (EFCC), which was obtained by the THEWILL in Abuja, said the development has become necessary because of Bankole's heavy involvement in the scam and has therefore given seven (7) days notice to the EFCC to arraign him.
The Organization said it has monitored with keen interest the on-going trial of Senator Nicholas Ugbade, Hon. Ndudi Elumelu and eight others by the EFCC for allegedly withdrawing illegally N5.2 billion (Five billion, two hundred million naira) from the Central Bank of Nigeria, using a number of companies as fronts and Dimeji Bankole was a major beneficiary.
The NGO relied on search report conducted by Kenneth Ugbomah & Co. at the Corporate Affairs Commission (CAC), Abuja, dated 23rd April, 2010, Complete Trade Nigeria Limited of No. 15, Oremesi Street, off Medical, Ikeja, Lagos – one of the companies used as fronts in the alleged illegal withdrawal – is owned by Adeshola H. Bankole and Sheriff M. Bankole, both of whom are family members of the Honourable Speaker of the House of Representatives, Rt. Hon. Dimeji Bankole.
It further said the findings revealed that Rt. Hon. Bankole took undue advantage of his position as the Speaker to influence the award of the contract to aforementioned company by indicating in writing five places where the said contract was to be executed in Abeokuta, Ogun State.
It also reasoned that since one of the companies allegedly used in the perpetration of this act of criminality is owned by family members of Rt. Hon. Bankole, he has a case to answer and should be standing trial alongside Senator Nicholas Ugbade, Hon. Ndudi Elumelu and eight others for aiding and abetting crime, adding that shielding Bankole from the ongoing trial portrays him as a sacred cow.
The organization in the light of the heavy allegation demanded the arraignment of Bankole for complicity in the N5.2 billion REA scam in order to assure the Nigerian people and the International Community of the sincere commitment of the present administration in the fight against corruption.
The NGO in a separate petition also asked the anti-graft agency to arraign Bankole over the purchase of 380 Peugeot 407 salon cars with over five hundred million Naira from Peugeot Automobile Nigeria Limited.
It said the EFCC having concluded investigation into the matter, there was no need wasting time to prosecute Bankole as according to them, justice delayed is justice denied as a prima facie case has been established against the Speaker and his deputy.