Russia, China and North Korea: The Surviving Superpowers?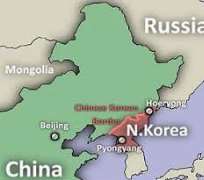 For decades, the USA, Russia's esrtwhile USSR, Britain, France and China were accorded the exclusive status of superpowers. Besides booming economies, huge military arsenals stood them out as exclusive. Yet, within that power pentagon, Russia led Union of Soviet Socialist Republics (USSR) and the USA were both the ultimate superpowers. And as champions of capitalism and communism respectively, both split the rest of the world along their opposing ideological lines. The ensuing rivalry between the two camps was so intense as to intermittently push the world close to the precipice.
Fortunately, even as humanity already resigned to a fate of annihilation by a nuclear holocaust, the unexpected happened. Russia's USSR stunned the world in 1991 with a declaration of an end to forced communism - translating to instant and separate sovereignty for her forcefully federated territories. And rationally, the USA considered that break-up, a victory that must be made certain and enduring. So, NATO as capitalism's military alliance parallel to communism's WARSAW Pact, embarked on a mop up of former communist states until the absorption of two strategic countries - Georgia and Ukraine drew the flak of Russia, ostensibly to preserve the remains of USSR of blessed memory. That strategic reason, saw Russia invading the two neighbours as otherwise, her erstwhile capitalist foes might have stopped at nothing to encircle and swarm her for certainty that the ghost of communism is finally laid to rest.
But unknown to many, those invasions were either asymmetrical to or a ruse for Russia's now apparent more lethal cyber front that has stunningly crowned her ultimate superpower even as a fraction of the erstwhile formidable USSR. Again, the only two other countries dreaded in cyber warfare, are incidentally China and North Korea - Russia's age-long communist allies. Hence these days, all fingers simultaneously point in the direction of any of the trio on major cyber attacks affecting nations or corporations. In the climax of such attacks, big corporations in the USA and former President Obama's unclassified emails have been preys. And the mother of all cyber attacks till date, is unarguably the one that has triggered a probe to determine any Russian influence in the emergence of Mr. Donald Trump as president of the USA.
Similarly, fearing vulnerability in a cyber warfare, the British Army Chief - Gen. Sir Nick Carter and Mr. Gavin Williamson, the Defence Minister ( http://www.bbc.com/news/uk-42828218 ) warned in January 2018 on risks posed by Russia to the national security of the UK. The gravity of that risk is better understood, perhaps, by realising that in this age of Internet of Things, any country that her Command, Communication and Control centre (CCC) is preemptively or strategically crippled by a cyber attack, is laid bare for quick destruction. Apparently, hence planned legislation by the US and EU to equate cyber attacks on national infrastructure with "acts of war" that can be reiterated by conventional attacks ( https://mobile.nytimes.com/2011/06/01/us/politics/01cyber.html?referer= and https://www.scmagazineuk.com/new-eu-framework-allows-members-to-consider-cyber-attacks-acts-of-war/article/703965/ ). But not only that the planned legislation could be medicine after death where a CCC has already been strategically knocked off, it only confirms the frustrating inability of both the USA and EU to match the fire-power of the trio of Russia, China and North Korea in cyber warfare. Otherwise, one expects a cyber attack to be reiterated by the same token.
Worse, neither does the air of superiority exuded by the presidents in France and America appear helpful to the cause of the capitalist world. That might be because both Presidents Macron and Trump came to power by unusual ascent. While Mr. Macron won the French presidency as the first ever independent candidate, President Trump won in the US against all odds as a non-establishment candidate. But does that qualify the duo as geniuses that could rewrite the books of international politics?
Apparently, the "America First" slogan of President Trump and President Macron's ambitious push for an EU federalist army ( http://uk.businessinsider.com/france-macron-davos-speech-on-europe-jokes-about-trump-2018-1?IR=T ) are weakening the once dreaded NATO and making resurgence of fascism on a global scale, real by the day. As things stand right now, neither America still curiously in search of greatness after over three centuries of nationhood, nor a multi-cultural EU attempting to establish a federalist army, might match the combined fire-power of present Russia, China and North Korea in a conventional warfare. The reason is obvious. Like all opponents, the new Russian bloc would never allow their perceived enemies either time to prepare for war or give notice of an imminent attack. Rather, they would strike at opportune times or exploit exclusivity of surprise as corroborated by Britain's army chief in his warning.
While it is natural to be ambitious, it is sometimes suicidal to trade certainty for uncertainty. A federalist EU army is a good idea just like "making America great again" but it must be reiterated that enemies would neither allow time for preparation nor give notice of an attack. So, the ambitious plans of both Europe and America still in the realm of imagination, cannot replace a time tested NATO. Otherwise, the surviving superpowers could be Russia, China and North Korea whose multilateral cooperation continues to grow even after President Trump's high profile state visit to China. Hence fear of the whole world going fascist is a matter of when and not if.
John Uwaya is an Outstanding Security Performance Award Finalist for the book - Security Awareness: An Imperative and The Urgency
5, Ogbetedo Street, Oto-Awori, Lagos State, Nigeria. Tel No. 2348090802468
Disclaimer:

"The views/contents expressed in this article are the sole responsibility of

John Uwaya

and do not necessarily reflect those of The Nigerian Voice. The Nigerian Voice will not be responsible or liable for any inaccurate or incorrect statements contained in this article."