Stop singing old song of blame, tell Nigerians what your govt did, Fayose tells Osinbajo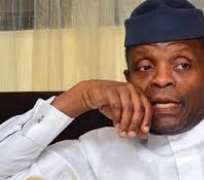 Ekiti State Governor, Mr Ayodele Fayose has carpeted the Vice
President, Prof Yemi Osinbajo, on his continuous complaints about
alleged corruption in the immediate past Peoples Democratic Party
(PDP) government, saying; "Nigerians are now more interested in what
the government has done to make life more meaning for them and not
what the previous governments did or failed to do. Today, the most
difficult question any student can be asked to answer in an
examination is to list just five landmark achievements of the
government in which Prof Osinbajo is the Vice President."
The governor, who said Corruption has become more endemic in the
present All Progressives Congress (APC) government added that; "If the
Vice President can look around himself with honest eyes, he will see
majority of those who called the shots during the previous PDP
governments that he claimed mismanaged the country's resources holding
sensitive positions in the present government. Today, even prosecution
witnesses are suddenly disappearing in corruption cases involving
those who have decamped to the APC and properties once seized are
being returned to them. Obviously, PDP has purged itself of corrupt
elements in its fold and offloaded them to the APC."
In a statement issued on Friday, by the Special Assistant to the
governor on Public Communications and New Media, he said he was
beginning to have a second thought on the Vice President's claim to be
a pastor, asking; "Is he truly a pastor? A pastor does not go about
playing to the gallery and defending falsehood. Isn't it a disgrace
for a pastor of the Redeemed Church in particular to be an agent of
falsehood?"
Governor Fayose said instead of going about exposing his hypocrisy,
Prof Osinbajo should be telling Nigerians what happened to the report
of those probe panels that he headed. How many
of those members of the APC indicted by his Probe Panel have been
charged to court? What happened to those involved in the fraudulent
reinstatement of wanted ex-Chairman of the Presidential Task Force on
Pension Reforms, Abdulrasheed Maina?
The governor said; "To me, it is time for Prof Osinbajo to say
something new and stop playing to the gallery because he is expected
to know better. Even if the President does not know, he should know
that Nigerians are tired of this directionless government that keeps
blaming its predecessors for its inability to prepare even budget.
"Even though I have great respect for the Vice President, but of
recent; I am constrained to begin to have a rethink. As a Professor
and Pastor, methinks he should be a light in this government of
darkness, and the engine room of the government. But shamefully, he
goes about saying things that are not true.
"Despite being a Professor of Law, the Vice President defended EFCC
Acting Chairman, Ibrahim Magu that was indicted of corruption by the
Department of State Service, an agency under the President, by saying
that Magu do not need the National Assembly to clear him. He is always
jumping to defend what is indefensible in this government."
While challenging the Vice President to list the government's
achievements, Governor Fayose said; "It was under three years that PDP
government solved communication problems in Nigeria by providing
Global System for Mobile Communications (GSM) that has made it
possible for Nigerians to use internet, social media and even bank in
the comfort of their homes.
"Also, it was under three years that the PDP government of Dr Goodluck
Jonathan established nine federal universities, 127 Almajiri schools,
34 new Colleges of Education, among several others. Exchange rate was
kept at N197 and petrol was sold at N87 per litre while a bag of rice
remained at N7, 000.
"It is almost three years; Prof Osinbajo should tell Nigerians what
their government did and stop blame-game please.
"Most importantly, if the Vice President has evidence of corruption
against anyone that served in the previous governments and the
present, he should be bold enough to present the evidence to the court
at a proper trial, not at public functions because alleged corruption
cases are not tried at social functions."