Police Arrest Acid Attackers of Fatima Habu Usman in Kano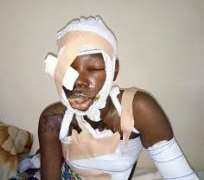 Borno Police Command Thursday has confirmed the arrest of one Musa Faisal in connection with alleged acid attack on his 26-year old girlfriend, Fatima Usman.
The Commissioner of Police, CP Damian Chukwu, disclosed this while briefing newsmen in Maiduguri.
It will be recalled that Fatima Usman, a final year student of Department of Nursing, University of Maiduguri was attacked with corrosive fluid by suspected tricycle operators in Maiduguri on March 16.
She sustained serious injuries on the face,shoulder and her chest as a result of the attack.
The attack had attracted a lot of public sympathy including NAWOJ and other women groups calling for proactive measures to protect women from abuse and to regulate activities of tricycle operators in the Maiduguri metropolis.
Chukwu said that the suspect, Musa Faisal, was arrested by men of the Special Anti Robbery Squad (SARS) in Kano.
He added that the police had also arrested one Muhammad Babangida, who conspired with Faisal and attacked the final year nursing student .
The Police commissioner noted that preliminary investigation have shown that the suspects conspired and assaulted the girl, contrary to the notion that she was attacked by tricycle operators.
Chukwu further said that the suspects and the victim were in friendship or relationship for over four years before Fatima Usman's parents at last rejected the marriage proposal offered by Faisal.
"our findings indicats that the girl and the suspect had been meeting in secret for a long period of time.
"On the day of the attack, she arranged to meet the suspect at a hotel in Galadima area of Maiduguri and while they were inside a room, his accomplice, Muhammad Banbangida joined them.
"Babangida was the one who poured acid on Usman and in the process, some of the liquid spilled over to Faisal.
"It is also established that the suspect vowed to deal with the girl since her family resented their union."
The commissioner explained also that the suspects have admitted committing the offence and would soon be charged to court.