Court fixes April 25 for judgement on election sequence case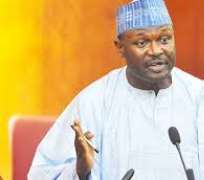 The Federal High Court, Abuja, has fixed April 25 to deliver judgment in a suit filed by the Accord Party seeking an order of court, restraining the National Assembly from acting on the Electoral Act (Amendment) Bill, 2018.
President Muhammadu Buhari had on March 13, refused to sign the bill into law, which sparked arguments as to whether or not, the National Assembly would use its powers to override the president's decision.
Justice Ahmed Mohammed fixed the date after listening to arguments of both the plaintiff and the defendants.
Mr Joseph Daudu, (SAN), counsel to the National Assembly, the first defendant, in his preliminary objection argued that the court lacked the jurisdiction to hear the matter on the grounds that its jurisdiction was not properly invoked.
According to him, the court can only have jurisdiction over the matter if the bill has become an act.
"No matter how it is construed, the Electoral Act Amendment Bill as at the day the originating summons was filed, up till date, is a bill, it becomes an act upon the happenings of two eventualities.
"Where a president, acting under provisions of Section 58(4) assents to the bill, it then becomes an Act of the National Assembly.
"Where he refuses to assent, under Section 58(5), the bill is returned to the National Assembly for use of their powers of to override.
"At that point, it remains a bill because there is no guarantee that they will muster the required two thirds majority to veto it."
Daudu argued that it was only where the National Assembly successfully used its power to over ride the President's veto and transform the bill to an act that the jurisdiction of the court over it would be ignited.