Activist Blame Past, Present Government Over Delta Underdevelopment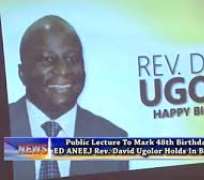 The woes and alleged backwardness that has bedeviled the oil rich Delta State have been blamed on poor and insensitive governments that have ruled the state since the advent of democracy.
The Executive Director of Africa Network for Environment and Economic Justice, (ANEEJ), Rev David Ugolor, spoke Saturday at the flag-off of a Civic Sensitization Campaign, tagged 'The Citizen's Duty in Enthroning Good Governance' organized by Face to Face Political Network, at Nelrose Hotel Asaba.
He alleged that things are rather going wrong with high level of impunity by political office holders, "in Delta State things are going wrong, the level of impunity is high. God blessed us, everything we require, God has given to us but has become a resource curse".
Rev Ugolor who hails from Oghara, Ethipe East local government area of the state alleged that politicians in the state are "thieves", calling on Deltans in the forthcoming elections to use their Permanent Voters Card (PVC) to vote out politicians who steal from the state treasury.
Speaking further, Ugolor alleged that some traditional rulers and religious leaders are complicit including youth leaders are part of the crude method, "corruption is not only from politicians, our traditional rulers and pastors are involved. The only way we can reverse it, is to be organized", purporting that what is obtainable "in our state is to share the money".
He accused politicians of dangling bags of rice, beans and peanuts before the people each political year to deceive the masses into voting for them, "every time you share a bag of rice, collect money, what that means is that you are sharing your future", he warned Deltans.
According to him, oil will never be the future of the state but "you". Revolution is the only way we can clean Delta State and the only instrument we can use to resist them is our voters' card.
He also alleged that about 60-70 per cent of projects executed by previous and present governments in the state are sited in places where they are not need just as he said they are not meaningful to the state, "the companies that execute these projects belong to their relatives and political allies and the Asaba airport is a huge fraud", he alleged.
He said the Peoiples Democratic Party (PDP) in the state and the All Progressives Congress (APC) at the central are all made up of same people.
Also speaking, representative of the Independent National Electoral Commission (INEC) in the state, Mrs. Ugochi Nwaubani, who represented the Commission's administrative Secretary, Mr Rose Anthony, called on civil society groups such as Face to Face Political Network to mobilize and educate Nigerians to collect their PVC and come out enmasse to vote, check voters apathy and high incidence of void votes.
Executive Director of Centre for Peace and Environmental Justice (CEPEJ) Mr. McDonald Ekemezie, who represented the National Coordinator, Comrade Sheriff Mulade, spoke in the same vain, highlighted the citizen's role in the enthronement of good governance.
Advocating an electorate-driven leadership system, where political power truly resides with the people and calling for a revolutionary change of corrupt and inept leadership at all levels of government through the ballot, they charged Face to Face Network to champion the movement in Delta State.