Adeosun Clarifies Letter to EFCC Boss on Recovered Funds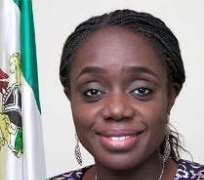 The attention of the Honourable Minister of Finance, Mrs. Kemi Adeosun, has been drawn to media reports misrepresenting her innocuous letter to the acting Chairman of the Economic and Financial Crimes Commission (EFCC), Mr. Ibrahim Magu, on cash recoveries by the Federal Government.
2. The Minister wishes to state explicitly that the letter dated 9th February, 2018, was a standard letter aimed at improving controls over the recovered funds.
3. There is no ulterior motive behind the letter as alleged in some media reports but to enable the reconciliation and harmonisation of the figures on recovered funds by the Government.
4. For the avoidance of doubt, the EFCC has subsequently provided the requested information and reconciliation is ongoing.
Signed:
Oluyinka Akintunde
Special Adviser, Media & Publicity to the Hon. Minister of Finance
Federal Ministry of Finance
25th March, 2018
The Honourable Minister of Finance, Mrs. Kemi Adeosun with the Co-Chair of Bill and Melinda Gates Foundation, Mr. Bill Gates, during the visit of Gates to the Minister on vaccine financing and support for Nigeria's fiscal agenda in Abuja on Thursday, 22nd March, 2018
The Honourable Minister of Finance, Mrs. Kemi Adeosun with the Co-Chair of Bill and Melinda Gates Foundation, Mr. Bill Gates, during the visit of Gates to the Minister on vaccine financing and support for Nigeria's fiscal agenda in Abuja on Thursday, 22nd March, 2018
The Honourable Minister of Finance, Mrs. Kemi Adeosun with the Co-Chair of Bill and Melinda Gates Foundation, Mr. Bill Gates, during the visit of Gates to the Minister on vaccine financing and support for Nigeria's fiscal agenda in Abuja on Thursday, 22nd March, 2018