Fg Must Deploy Every Resource At Its Disposal To Free Leah Sharibu - #thechurchmustvote Group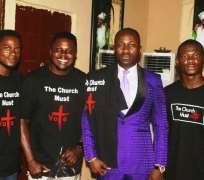 We are extremely saddened and disappointed by the circumstances surrounding the release of the abducted Dapchi Girls which witnessed the release of every one of the abducted schoolgirls who are alive safe for the only Christian in the group, Leah Sharibu who according to reports refused to denounce her faith in Jesus Christ.
While we celebrate with the parents of those who have been reunited with their kids, we are filled with grief and shocked that the government seeks to take some glory for negotiating their release with the terrorists. Does this mean that the government considers the life of the Christian less worthy?
Every Nigerian irrespective of their Faith, Religion, Affiliation, Orientation, Ethnicity and any other demographic profile must be dealt with equal justice and concern.
We therefore call on the federal government of Nigeria to deploy every resource at its disposal and hasten the release of Leah.
The entire Christian community stands with Leah in one voice and strongly condemns every action, individuals or groups that threaten the security and rights of the Nigerian church.
Signed:
Ikechukwu Nmor
Co-founder, The Church Must Vote