Adeboye prays for Dapchi Christian girl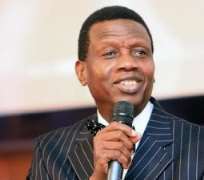 The General Overseer of the Redeemed Christian Church of God (Worldwide), Pastor Enoch Adeboye, has prayed for the release of Leah Sharibu, the Dapchi Christian girl, who is still in the captivity of Boko Haram.
Sharibu was captured alongside 109 schoolgirls of the Government Girls' Technical College, Dapchi, Yobe State on February 19, 2018, by the Barnawi faction of the Boko Haram terrorist group.
But in the early hours of Wednesday, after a month in captivity, the sect released 104 of the girls.
One of the released girls, Khadija Grema, had narrated that five of her colleagues had died due to suffocation, while Sharibu was still being held by the insurgents because she refused to convert to Islam.
Writing on his Facebook and Twitter pages on Friday, Adeboye said, "Lord, we ask that you visit the camp of the (Boko Haram) captors and, in a way that You alone can, see to the safe release and return of the missing girl, Leah Sharibu, in Jesus' name."
Meanwhile, President Muhammadu Buhari had earlier on Thursday assured that he would do everything in his power to secure Sharibu from her captors' hands.
"It is disheartening that one of the girls, Leah Sharibu, remains in captivity. Let me assure that I am as committed to her freedom as I was to the girls' freedom when all 110 of them were in captivity. We will do everything in our power to bring Leah back safely," he said.
Meanwhile, the founder of Complete Care and Aid Foundation, Mrs. Aisha Wakil, popularly known as Mama Boko Haram, has assured that Sharibu will soon be released.
In an interview with Channels Television, Wakil said she was hopeful that with commitment and sincerity on the part of the government, Sharibu, with the remaining Chibok girls, would return home safely. – PUNCH