Enugu community boils as residents protest alleged killing of commuter by NSCDC officials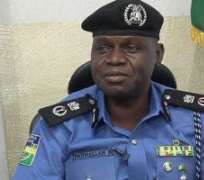 The Police Command in Enugu says it has commenced investigation into the alleged killing of a commuter by an official of the Nigeria Security and Civil Defence Corps (NSCDC).
The killing sparked protest by residents of Ngwo community, near Enugu.
The Command's spokesman, SP Ebere Amaraizu, told the News Agency of Nigeria (NAN) in Enugu on Thursday that the incident took place at about 10 a.m. on Thursday.
NAN reports that it took the intervention of the Commissioner of Police, Mr Mohammed Danmallam and other top functionaries of the state to restore normalcy to the New Market Road.
Danmallam's arrival saved the situation as commuters were all trapped as angry residents barricaded the New Market Road.
Briefing newsmen shortly after calming down the protesters, the commissioner described the incident as unfortunate.
He said that the police would not allow anyone to jeopardize the peace in Enugu State.
"What happened is very unfortunate, especially with the peace we are enjoying in the state. This kind of thing should not be allowed.
"Investigation has started. We asked people who witnessed what happened to come forward and give us discreet statement, which will help in our investigation.
"We are assuring them that whoever is involved is going to be brought to book.''
A witness said that trouble began when a bus driver allegedly stopped and picked a passenger from a spot that was considered unlawful and when NSCDC officials accosted him, he zoomed off."
"The bus was chased by the NDSDC officials in a tricycle and it burst into flames when it felled into a ditch.
The spokesman of the NSCDC, Enugu State Command, SP Denny Iwuchukwu, said no gunshot was fired on the commercial as claimed by the protesters.
"We have a directive from the state government that nobody should pick passengers along that road.
"So, when the driver stopped to pick passenger, our operative told him that it was wrong for him to do that.
"As our man entered the bus, he zoomed off with him. So, other officers on ground chased after him and in the process, the bus fell into the ditch.
"We chased after the vehicle because he drove off with our man. However, no gunshot was fired,'' he explained. (NAN)