Buhari vows Dapchi schoolgirl still in Boko Haram captivity because she refused to reounce Christianity 'will not be abandoned'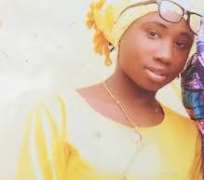 Nigerian President Muhammadu Buhari has vowed to free the only Dapchi schoolgirl believed to still be in Boko Haram captivity.
In a tweet Thursday, the President said the government will not relent in its efforts to have Leah Sharibu reunited with her parents, as it has done for others.
11 h
Muhammadu Buhari
✔ @MBuhari
I received the news of the return of our Dapchi daughters with great joy. And I look forward to receiving them at the State House. I thank everyone who was involved in the negotiations for their return.
Muhammadu Buhari
✔ @MBuhari
My heart goes out to Leah's parents, who must watch other parents rejoice while their own daughter remains in captivity. It is my responsibility, under the Constitution of Nigeria, to protect all Nigerians—and I will always strive to do that. Leah will not be abandoned.
Her father, Nathan, says he was told by the other girls released that Leah, 15, was left behind in a Boko Haram camp because she refused to renounce her Christian faith.
"The girls that returned said Leah said she will not deny Christ or turn to be a Muslim," the distraught father told CNN.
Nathan, a police officer, said emotions are running high in the family and her mother collapsed on hearing the news. "I am more scared because now she's the only girl with them," Nathan said.
"Her mother, Rebecca, collapsed yesterday when she got the news. Everybody is sad and I am pleading that government should not give up on her," he said.
Boko Haram  militants told the girls to forsake Western education for Islam while they were in captivity, one of the Dapchi parents told CNN.
Manuga Lawani reported that his daughter, Hauwa, said the insurgents read the Quran to them regularly in the camp.
"She said the militants were nice, they did not torture them but always told them to forget about Western education for Islam. They made sure they observed their prayers and taught them the Quran."
Boko Haram released most of the  110 schoolgirls kidnapped last month  to their hometown in Yobe State on Wednesday.
The schoolgirls who are now in the capital, Abuja, where they are expected to meet Buhari. CNN