Authorities Confirms Kidnap of Unimaid Student, Fatima Habu Usman,Raped, Dumped and Bathed With Acid...
Plans Underway To Track Down Culprit's As Security Agents and Govt Intervene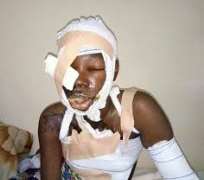 Miss Fatima Abu Usman, a part five level student of University of Maiduguri, from the Baru tribe of Biu LGA, Borno state has been on admission at the female surgical ward, University of Maiduguri Teaching Hospital (UMTH) immediately she was rescued by a good Samaritan after being bathed with acid and dumped at the railway line near the railway terminus area of Maiduguri on metropolis. Two men suspected to be kidnappers on tricycle( Keke NAPEP) abducted her when she came out of First Bank Main Branch Maiduguri, located in the banks area after dispossessing her of her mobile phones and other valuables.
Fati as she is popularly known and called is a student of the Department of Nursing , University of Maiduguri was said to have been kidnapped on Friday last week in the banking area of Maiduguri in front of the First Bank Plc, shortly after she came out from the bank where she had gone to deposit some cash.
The Senior Special Assistant , SSA to Governor Kashim Shettima on Social Media , Mr Chris Akaba who confirmed the incident explained to journalists in Maiduguri that "the victim actually boarded a commercial tricycle popularly known as Keke NAPEP to her residence located at Federal Low cost housing estate along Baga Road.
" But unknown to her, one of the men in the tricycle brought out a white handkerchief and pretended as if he was having cough, but as soon as he touched her face with it, she passed out.only to find herself dumped at the Railway line , popularly known as Railway Bayan Quarters area, bathed with a substance suspected to be acid on her face , chest, neck and shoulder around 1.00 pm in the afternoon last Friday".
"She was also dispossessed of her android phone and other valuables. We visited her at the UMTH yesterday where she's currently on admission. It's sad that an innocent young lady like Fatima, who is already in her final year at the university and looked forward to a better future, should be subjected to such cruel and inhumane treatment by criminal-minded Keke NAPEP operators in the state.
" I will suggest that it is about time that the activities of Keke NAPEP operators in the state be thoroughly scrutinised so as to weed out the criminal elements among them. Those perpetrating such crime may not even be from the state", Chris said.
The SSA Social Median added that if this can happen during the broad daylight, one wonders what has been going on under the cover of darkness.
" I learnt that many of such cases had been reported to the police in recent times, but the female victims and their families hardly open up because sexual assault is involved in most cases.
"I also believe that there's a direct correlation between such crime and drugs abuse by youths in the society. No right thinking individual will commit such crime except under the influence of drugs", Chris said.
However, further investigation revealed that the final year nursing first degree student of the Department of Nursing, College of Medicine, University of Maiduguri, Miss Fatimah Habu Usman Biu is in a serious and critical condition with bandages all over her head, face shoulder and chest at the female surgical ward of the University of Maiduguri Teaching Hospital, Coasten Gwange area of Maiduguri city since Friday following the alleged , robbery, raped and acid attack by unknown persons after the 24-year-old student boarded their Keke NAPEP on Friday.
It is also believed that she was sexually assulted in the bush before the acid attack on her face, shoulder, chest and head.
The victim's purse said to be containing her phone, money and other valuables before dumping her around the preaching square of late Mohammed Yusuf, the Boko Haram Leader that was destroyed by the state government