Release of Abducted Schoolgirls: Military Deploys Helicopters to Dapchi, Blocks Entrance to Dapchi Town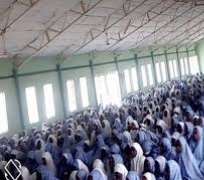 Nigerian military has Wednesday, deployed helicopters to Dapchi community, where Boko Haram insurgents returned the 76 schoolgirls abducted from Government Girls Science and Technical College Dapchi.
Similarly, the main routes linking Daochi town or entrances to the town have also been blocked by security operatives.
The Chairman of the abducted schoolgirls parents, Bashir Manzo confirmed to Daily Trust he has found his daughter and have taken her to hospital.
He said the girls were returned in the early hours of Wednesday .
Yobe State Police commissioner, Abdumaliki Sunmonu said they have dispatched police to verify whether the girls have been returned.
One of the Dapchi girls freed from Boko Haram captivity said five girls died "due to congestion" in a vehicle after they were abducted.
Fatsima Abdullahi, a 15-year-old SS1 student, is number 73 on the list of abducted Dapchi girls published by the federal information ministry.
In a phone conversation with a man named Modu Geidam, for whom Fatsuma's father does security work, she said the girls were kept in an "underground place where even aircraft" couldn't spot them.
But she noted none of the girls were maltreated, other than the death of the five girls shortly after their abduction.
She said they were well fed throughout their captivity and the girls even had to cook their own food given.
On the phone, Fatsuma said they were being taken to hospital for treatment.