MEND commence fighting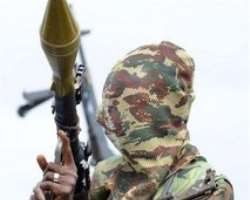 d: 06/12/10 MEND commence fighting advertisement

FIGHTERS of the Movement for the Emancipation of the Niger Delta (MEND), an insurgent network, appear to be returning to their trenches after some seven months of relative peace in the volatile Niger Delta, an oil and gas region.
Mr. Jomo Gbomo, spokesperson for MEND in an on-line statement to our correspondent on Thursday, claimed that their fighters were locked in clashes with some armed security forces.
According to Gbomo, ''MEND can confirm that there was a bloody confrontation at about 0030 Hrs today, June 10, 2010 between our fighters and men of the military Joint Task Force (JTF) after one of our patrols ran into two gunboats of the JTF at Ogulagha in Delta state''.
Continuing, he said, ''a firefight ensued which lasted about 30 minutes. None of our fighters were injured but reports reaching us indicate the JTF lost 4 soldiers with an unspecified number injured''.
While the Abia State axis of the oil region remains the most vulnerable since the expiration of the Presidential amnesty on October 4, 2009, there have been pockets of low profile abductions in Rivers State for cash.
There appear to be a simmering political battle in Delta state as some aggrieved politicians are bent to dismantle the James Ibori political dynasty in 2011.