Glut alert as US emerges world's second largest oil producer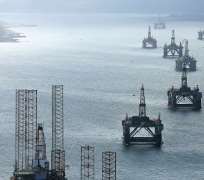 New drilling and production techniques have propelled the United States of America (USA) to become the second biggest oil producer in the world behind Russia and ahead of Saudi Arabia as its daily output continues to rise above 10 million barrels per day.
According to reports by AFP, with shale oil boom the US is becoming a significant exporter of crude oil, a development that is altering the global petroleum market and undermining OPEC's effort to curb supplies and bolster prices.
While this may be music to the American ear, OPEC member countries and non-Member countries involved in the Declaration of Cooperation which caps oil production in countries that are party to the deal with the aim of stabilizing prices, will not share the enthusiasm.
Economic stability in the OPEC and non-OPEC member countries is intrinsically tied to high oil prices and a balanced market with demand chasing supply, not the other way around. Arguably held together by Russia's involvement, the Declaration of Cooperation has so far helped to prop up oil prices to appreciable levels in the global oil market.
However, all along, there was the implicit concern of the activities of shale producers in America whose new technology coupled with favourable government protectionist policies in the oil sector have helped the US raise production from 8 million over the last decade, to 10.38 million barrels per day (bpd), pushing it past top exporter Saudi Arabia. Only Russia produces more, at around 11 million.
The report stated that the US has being eyeing this jump since the end of 2015 hence it scrapped the embargo on exports, a policy that dates back to the 1970s oil shocks. Energy companies are said to have seized on the opening, exporting 1.1 million barrels per day to 37 countries in 2017.
On the home-front, as US shale production has grown, the appetite for Nigerian crude in the US has dropped dramatically. Up until the early 2000s, the US was Nigeria's top crude importer, buying around 700,000 bpd of the commodity and climbed as high as 1.31 million bpd in February 2006, according to the US Energy Information Administration. This volume has, however, been dropping since then, reaching zero import level by June 2015. This situation led the Minister of State for Petroleum Resources, Ibe Kachikwu, to declare that Nigeria has forever lost the USA as a significant crude export market.
A fallout of this latest development is that Nigeria is finding it increasingly difficult to find offtakers for its cargoes, leading to pending tenders for its monthly cargo loading programmes.
The report further explained that Canada is the leading destination of American crude, adding that the US has also been exporting more to Asia, which for long has been a major market for the Organisation of Petroleum Exporting Countries (OPEC), and Russia. Meanwhile, data shows that China is the second biggest market for US exports.
But the US remains a major importer of crude oil, in large part because American oil refineries are not designed for the lighter-weight crude that comes out of shale fields. Rather, many plants are built to run on heavier oils from Canada, Mexico or Venezuela that are cheaper to procure and result in lofty profit margins after they are processed into gasoline.
Experts are of the view that US oil exports could grow to as much as four to five million barrels a day in the medium term, prompting questions on which markets will buy the additional oil. Analysts however, expect much of the crude to reach Europe, given the compatibility of the oil with the continent's refineries.
Meanwhile, oil prices declined Monday as increased drilling in the United States pointed to more output, raising concerns about a return of oversupply. U.S. West Texas Intermediate (WTI) crude futures were at $62.03 a barrel down 31 cents, or 0.5 percent, from their previous close, while Brent crude futures were at $65.88 per barrel, down 33 cents, or 0.5 percent.
On a simple supply versus demand basis, a renewed oil glut is imminent as US drillers show no signs of letting up having added four oil rigs in last week bringing the total count to 800, a report said.
For OPEC and non-OPEC countries, the time has come to discuss the elephant in the room, or consider Kachikwu's suggestion at the CERAWeek 2018 and extend an extend an olive branch to shale producers in the hope that a deal can be arranged. Either way, shale is changing the global oil market and OPEC must act fast.
--
Source:
M&P, Agency Report