Why anti-corruption war has failed: Ekweremadu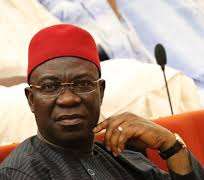 DEPUTY President of the Senate, Senator Ike Ekweremadu, has stated that only a holistic and institutionalised approach to the anti-corruption crusade by the current administration can guarantee success for Nigeria.
Ekweremadu noted that although the recent drop by Nigeria in the Transparency International's Corruption Perception Index was a huge blow to the nation's anti-graft war, it should be seen as a wake-up call.
The Deputy Senate President said this at an anti-corruption event organised by the Yar'Adua Foundation in Abuja  on Monday , according to a statement by his Special Adviser on Media, Mr. Uche Anichukwu.
He said, "A sincere and meaningful anti-graft war must be holistic. Nigeria cannot wage war against one type of corruption in isolation of the others and expect to succeed. We cannot also succeed in this all-important war if we place a set of citizens above the law and if we accord red carpet reception back into office to some persons indicted or disciplined for corruption, while others are arrested before investigation, then tried in the media, and taken to court even on a stretcher."
He added, "Such attitudes cannot mobilise the needed national and international support in the anti-corruption crusade.  It can only breed more corruption by giving some people a sense of 'above-the-law' and embarrass us before the international community."
Ekweremadu, who was represented by the Chairman, House of Representatives' Committee on Works, Mr. Toby Okechukwu, further advised that anti-graft war should be hinged on the right legal framework and institutions, not the 'goodness' of the leaders alone.
He added, "We must build the relevant institutions and erect the requisite legal framework.  Every arm and institution of government must play its part. – Punch