Exes 50 Cent & Vivica A. Fox reignite feud after she claims their sex life was 'PG-13 rated'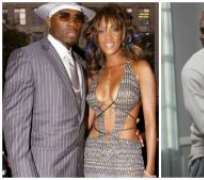 50 Cent and Vivica A. Fox have been anything but friendly exes since they dated in 2003.
The pair's ongoing feud took another turn on Monday when excerpts from Fox's forthcoming book obtained by PEOPLE, Every Day, I'm Hustling , characterized her sex life with the rapper as "PG-13."
The New York Daily News was the first to report about Fox's book, billed as equal parts memoir and self help book drawn from her own life experiences.
Though she writes how "cherished and special" their intimate moments were, the actress, 53, also states: "Most of the time, I would be the one initiating sex, because I really enjoyed making love with him."
50 Cent, 42, clapped back on Instagram the same day, writing, "I'm waking up to this s—, that was 14 years ago. smh who does this? What the f—!"
Fox's revelations about their sex life come over a year after she revealed they made peace in January 2017.
"Someone has to be the bigger person," the Empire star told Wendy Williams. "I hated to have beef with him, but I let nobody mess with me. I ain't no punk. I told him, 'I will always love you. We're not meant to be together, but I'll always have love for you.' "
Fox and 50 Cent's spat was particularly tense in 2015 when she seemingly questioned his sexuality.
The controversy first started in October 2015 after the Power actor shared and deleted an Instagram post from a third party that blamed Empire's ratings drop on a homosexual storyline explored in the show.
Then soon after, during an appearance on Watch What Happens Live with Andy Cohen in November, Fox made comments that led viewers to wonder if she was insinuating that 50 Cent was gay. He responded by blasting his ex-girlfriend on Twitter, calling her "crazy."
Every Day, I'm Hustling is scheduled to be released on April 3.