I would like to pursue a career in politics but political calculations may change.... Lawan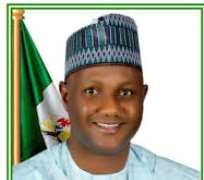 A seasoned banker with over 20 years banking experience, Honourable Adamu Lawan Zau Fanjumba who is also the Borno State's Commissioner for Works and Transport speaks with journalists and The Nigerian Voice. He spoke on his efforts to re-engineer Maiduguri city, Borno politics , security challenges and other topical issues.
Q: What prompted your switch from the private sector for life in the public service?
A: Governor Kashim Shettima asked me to join his cabinet as the Commissioner for Works and Transport in order to help him bring the dividends of democracy to the people of Borno State.
Q: Any particular reason why it had to be you?
A: The governor and I go way back. He was first my lecturer at the University of Maiduguri from where I graduated with a First Class in Agricultural Economics.
He taught me briefly for a semester before he left for the banking industry where we met again at Zenith Bank; this time, as my manager.
Unknown to me while we worked together, he was busy understudying me and I suppose having found my work ethics, commitment, zeal, consistency and approach to getting things done the right way, he felt it necessary to bring me on board. I joined him during his second term.
Q: The governor's tenure ends next year. Do you plan on returning to your first love, banking, or have you mapped out a life in politics?
A: It all depends on how politics works out. I would like to pursue a career in politics but political calculations may change. I once contested for Borno Central Senatorial district seat in 2014 but the governor asked me to step down for the current senator as he wanted me to work with him at the state level and not at the federal, yet.
I still have that ambition but like I said, politics is all about give and take. When the time comes, we can all sit down and see what is best. This is the current senator's first time in the hallowed chambers, I don't know if he will be interested in returning to the house.
But depending on any other position the governor feels is okay for me, I am good with it. If he wants me to wait again, all well and good, then I wouldn't mind going back to my banking career.
Q: Having worked in the private sector and now you are in public service, how would you compare your experience in both sectors?
A: It has not been easy coming from a totally different background. In the private sector, one is goal driven; you have targets to achieve and a timeline for whatever you want to do.
But when I came into the public sector, I discovered that things were totally different. As a newbie, I had to learn about what they were doing, how things were being done, the policies, rules, procedures, before I did anything.
I didn't want to project a sense of self importance of knowing it all and I realized that when you are humble enough to ask questions, you would never fail. When I came on board I found out that most of the staff of the ministry were elderly, some much older than me.
Hence, I had to come down to their level; respect them, respect their wishes, look at their interest etc. I also realized that in the public sector, there were a lot of hardworking and intelligent people most of whom were not carried along for participation.
What I did was to apply the civil service rule which had hitherto not been followed in terms of considering the seniors when it comes to promotion, the office they occupy, the age of service etc.
Many who were due for promotion couldn't get promotion because they had no politician friend or family to put in a word for them and thus got bypassed regardless of their qualification and years of service. I checkmated all that and brought back hope for those who had lost hope due to the politics at play in the civil service.
Q: What has been the motivation for you?
A: It wasn't that my predecessors couldn't get some projects done while they were in office. It was due to the peculiar situation they found themselves in at that time which was the issue of insurgency by the Boko Haram within the Maiduguri metropolis.
The particular project that got many having that notion of accomplishing what couldn't be done by my predecessor, is a road called Lagos Street.
Boko Haram killed one of the workers and the contractor decided to pack up and leave the site for a very long time which was why it took close to four years to complete it.
The road is very strategic because it links up to a lot of places. When I came in, the situation with insurgency had improved hence I decided to call back the contractor to site.
We went back to the drawing board to assess the level of work done, money needed to accomplish the task, equipment needed etc. I relocated my office to the site.
I visited the site about 900 times in less than a year before the completion of the project. The whole idea was to boost the morale of the workers and motivate them to get to work. The road was completed within a very short time.
Q: Can you highlight some of your other achievements that made you celebrated?
A: Immediately I took over, I decided to take on projects that were yet to be completed. I don't believe in opening up new projects while the ongoing ones are yet to be completed.
We decided to first of all focus our attention on the projects that we would likely be able to complete in scheduled time.
We also took on small projects that we contracted out through direct labour because most contractors were still afraid to handle any project in Maiduguri.
One of such projects was street lighting. We realized that even though there was curfew, a lot of movement still occurred. But with good street lighting, the security personnel in town were able to track some of these movements and forestall a breakdown of law and order.
Within a short time, we were able to light up about 80 per cent of the major roads within the Maiduguri metropolis including areas that were initially not easily accessible at night.
We use 21 generators to power the street lights which must always be on at night come rain come shine. Also, before I took over, when the insurgency was at its peak, most of the roads had gone quite bad and were filled with pot holes because the Nigerian Army barricaded some of them in a bid to control the inflow and outflow of movement.
And naturally when a road isn't used for a while, it is bound to get bad. So I created a committee called 'Operation Zero Pot Hole' to ensure that no road is left with pot holes.
The governor graciously approved of the funds for the purchase of equipments to get this done without going to source for it.
We spent close to N4bn naira for the equipment. In fact, I can comfortably tell you that in the whole of Northern Nigeria, if not in the entire country, no state government can boast of the kind of equipment and machineries that we have as a state. Most of the machines we got from Julius Berger.
Today we have four asphalt mixing plants, one of them we bought from Julius Berger with a capacity of 170 tons per hour and it has a recycling plant attached to it.
One of them is in Biu, Southern Borno being used for all the road networks around that zone while the other three are in Maiduguri. We also have an 80 ton crane which we sometimes lease out to contractors. Today, most of the bad roads in Borno are now motorable.
Roads that one couldn't access during the rainy season are now accessible and people are happy. In fact it used to be so bad that once the rainy season starts, people would lock up their houses and leave.
But in the last two years, none of the people have migrated because we were able to construct the drainages and the roads such that one hour after any downpour, you won't see any water on the road. Besides the Maiduguri metropolis, we have been able to complete the electrification of about 50km of Bama town.
A lot of road construction is also going on around the state which is relatively peaceful now. We don't begin work on any road without the permission of the military.
In addition to blowing up bridges and buildings, the Boko Haram sect buried a lot of mines and the military had to first clear any road of mines before giving workers an all clear signal to commence work.
So what we are really doing is rebuilding and it is a lot of work and time is of the essence because the rainy season will soon start.
There is a particular area where the local government usually gets cut off from the rest of the country when it rains but we are doing our best to make sure that doesn't happen before the rains come.
So these are some of the things that I have done that have made people now realize that a commissioner can actually make a difference.
Q: What is the security situation in Borno State today?
A: It has improved a lot but the military are almost everywhere in the state. The military command relocated to Maiduguri. The bombings still happening are simply a sign of weakness as the Boko Haram don't have the strength, the power nor the might to take any village anymore.
They will only do hit and run, detonate bombs in market places. But that is the worst they can do. Now we can sleep, travel comfortably because they are now on the run. Their days are numbered.