Dubai Police revoke Ibori's bail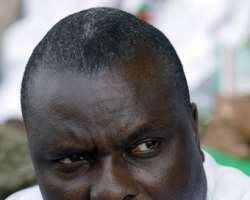 James Ibori
Former governor of Delta State, James Ibori would have to remain in jail while awaiting the result of his extradition hearing in Dubai, United Arab Emirate as the bail granted him after arrest on May 12 was revoked yesterday.
Haaba.com reported that he was arrested again on arrival at the police headquarters while the bail was revoked by authorities for the fear he could run away.
Ibori fled Nigeria to escape arrest from the Economic and Financial Crimes Commission (EFCC) over money laundering charges and was nabbed in Dubai by agents of INTERPOL based on an international arrest warrant issued by the United Kingdom government due to money laundering charges.
Haaba.com said police authority in Dubai revoked Ibori's bail fearing he might flee Dubai owing to his desperation to escape imprisonment after the sentencing of two of his accomplices, Christine Ibori-Ibie (sister), and Udoamaka Okorokwo (mistress) to a five-year jail terms each by the Christopher Hardy presided Southwark Crown Court in London on June 7, 2010.
He is to remain in prison until the conclusion of his extradition hearing in the United Arab Emirates.
Ibori's predicament started when he was first arrested on December 12, 2007 by the Economic and Financial Crimes Commission (EFCC) at the Kwara State Lodge in Asokoro, Abuja.
The charges he faced included theft of public funds, abuse of office, and money laundering. These corruption charges brought against Ibori by the government of former President Obasanjo are among many begun by the former chairman of the EFCC Malam Nuhu Ribadu.
Ribadu also alleged that Ibori attempted to induce him to drop the charges with monetary gift of $15 million, which he (Ribadu) straight away lodged in the Central Bank of Nigeria CBN. The cash remains in the CBN as an exhibit.
On December 17 2009, a Federal High Court sitting in Asaba, Delta State, discharged and acquitted Ibori of all 170 charges of sleaze brought against him by the EFCC.
Three months after the take over of government by President Goodluck Jonathan, his case file was reopened