Abducted Dapchi schoolgirls will be freed soon, Defence minister says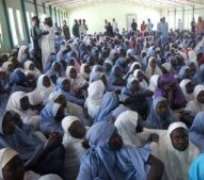 Minister of Defence, Mansur Dan-Ali, has said  the 110 students of Government Girls Science and Technical College will return "as soon as possible".
According to him, the Nigerian security agencies are already closing in on the girls.
The girls were abducted when Boko Haram insurgents raided their school on February 19.
Speaking when he appeared on a Channels TV programme on Saturday, Dan-Ali said the federal government is
When asked how much hope is there for the rescue of the girls, the minister said: "I cannot determine, it is an intelligence, but it is as soon as possible.
"I'm sure with the latest intelligence on information we are getting, we shall get them soonest."
Asked to give a timeline for their return, he said: "It can be earlier; maybe a week, it can be two weeks, but we are on it, and I'm telling you with all sense of sincerity that we are closing in on them."
Last week, President Muhammadu Buhari disclosed that the federal government is negotiating the release of the girls.