Herdsmen have destroyed 500 churches in Benue: CAN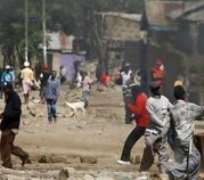 The Benue State Chairman of Christian Association of Nigeria (CAN), Rev. AkpenLeva, has disclosed that herdsmen incursions in the state has led to the destruction of over 500 churches in parts of the state.
Rev. Leva, who spoke in Makurdi, said most worshippers at the affected churches were also displaced as a result of the crisis, which dates back to 2011.
The cleric noted that aside churches, missionary schools located within the affected churches, pastoral centres and homes, clinics and rehabilitation homes were also lost to the crisis.
"The destruction cuts across Catholic, Pentecostal, NKST, Anglican and several other churches located in areas affected by the crisis," he claimed.
"The level of destruction is actually worrisome and that is the more reason why there is every need for the Federal Government to consider availing these churches some form of compensation, so that we can rebuild the effected structures and also effect repairs on others.
"Majority of those affected in the crisis are Christians, which means that the Church also carries the burden of contributing its widow's mite to the upkeep of the close to 170,000 persons displaced in the state as a result of the crisis.
"The situation in Benue State at the moment is pathetic; the state government has been overwhelmed because of the magnitude of the devastation and the number of the displaced.
"There is certainly no way a state government can cope with the kind of number of IDPs the government is catering for at the moment."
Nigerian Catholic Reporter