Okowa, Nwoaboshi's Re-election Bid Receive Boost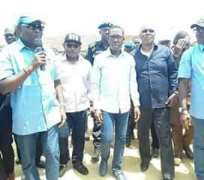 The National President, Ofu-Obi Anioma Social Political Group, Delta North and Chairman Oshimili North local government area Hon. Louis Ndukwe, Tuesday, charged Ukwuani people to reciprocate the giant stride of both the state governor, Ifeanyi Okowa and the Senator representing the District at the hallowed chamber of the National Assembly (NASS), Senator Peter Nwaoboshi to massively support them as they seek reelection ahead of 2019 general elections.
Speaking during the inauguration of the Ofu-Obi Anioma group in Amai, Ukwuani local government area, Ndukwe, noted that the Ofu-Obi Anioma group is a social political pressure group in Delta North that has its core mandate of drumming support for the Governor and Senator Nwaoboshi.
He stated that the decision of the group to work for the reelection bid of both Governor Okowa and Senator Nwaoboshi, was borne out of their developmental strides and commitment towards ensuring the betterment and all round development of the Anioma Nation.
Hon. Ndukwe while imploring the Executives of the group at both the LGA and ward levels to propagate the gospel of Senator (Dr) Ifeanyi Okowa and Senator Peter Nwaoboshi, hinted that the excellent performance of both the Governor and Senator Nwaoboshi, has so much endeared them to the hearts of majority of Anioma Electorate.
According to Hon Ndukwe, the many road projects and infrastructural development attracted to Anioma Nation by Senator Nwaoboshi in recent times is evidence and testimony of his capacity and laudable representation of the interest of the Anioma people in the National Assembly.
He further asserted that the pair of Sen. Okowa and Nwaoboshi is no doubt one, as the both have proven to themselves to be worthy ambassadors of the Anioma people. speaking shortly after the inauguration, the coordinator of the group in Ukwuani Hon Abraham Dike on behalf of the Executives expressed appreciation to Hon Ndukwe for finding them worthy of the task.
He assured him that the group in Ukwuani will work in tandem with the core objectivities of the group which is to ensure the reelection of Governor Okowa and Nwaoboshi, with an assurance to the National Chairman that the Executives in Ukwuani would never betray the confidence reposed on them by the national leadership of the group.
High point of the ceremony was the official inauguration of both the LGA and ward Executives of the group in Ukwuani as presided by the national President of the Ofu-Obi Anioma group Hon.Louis Ndukwe amidst fun fare and excitement.