Impeach Buhari: His Dangerous Cluelessness Is No Longer Pardonable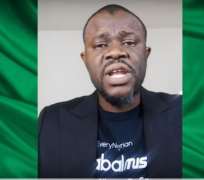 There is no greater evidence of total reckless incompetence and deadly cluelessness than president Buhari's pronouncement of not knowing for almost two months that his police chief disobeyed his orders and pulled out of terrorized Benue state.
While all eyes have been on Benue, an epicenter in the Boko Haram herder-farmer terror crisis, to realize that Nigeria's president is totally negligent, received no security updates and did not care to read the headlines till he visited the state, is tearfully painful and deserving of nothing less than impeachment.
Buhari must be eased or forced out. He is either too old, too weak, or not interested enough to remain in charge of 180 million desperately needy Nigerians. There is no return for the dead of Benue. There is no healing for the traumatized survivors who have lost their loved ones, their limbs and their properties.
The Benue saga is just a latest in dozens of similar events that prove Buhari has not been in charge since falling ill and taking extended medical leave. Perhaps in his desperation he became a sworn slave of the cabal. Or perhaps he is just not capable. Whatever the case, Nigeria must be liberated from his incompetent leadership.
Nigeria has lost eight years. In eight years not a single cabal has been locked up for corruption. Buhari has even failed to reveal the list of corrupt cabal who allegedly returned a fraction of their loot, as he was ordered to by the courts. In eight years not a single sponsor of the northeast Boko Haram or the herder-farmer mobile Boko Haram has been arrested. In eight years Nigeria has been open to free looting of billions of dollars from its treasury via NNPC fuel subsidy scams and CBN FOREX subsidy scams while Buhari has remained boldly clueless.
The nation cannot wait any longer. Impeach Buhari. Save Nigeria.
– Dr. Perry Brimah; the @CabalMustGo revolution can be joined on WhatsApp: +1-929-427-5305 ; +234-903-420-3031 ; Follow @EveryNigerian on twitter.or via Facebook.com/CabalMustGo
Disclaimer:

"The views/contents expressed in this article are the sole responsibility of

Dr Perry Brimah

and do not necessarily reflect those of The Nigerian Voice. The Nigerian Voice will not be responsible or liable for any inaccurate or incorrect statements contained in this article."