Dr. Edward Ihejirika Lauds The Development Strive Of Governor Rochas Okorocha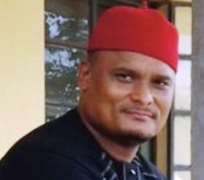 Dr. Edward Onyemaechi Ihejirika, Chief Liaison Officer Imo State Liaison office, Abuja, on Friday held a media interactive session with newsmen where he commended the giant strive the administration of governor Rochas Okorocha had recorded in Imo state.
The Chief Liaison Officer stated that since he assumed office as the chief liaison officer Abuja, in September 2017 he need to give the public the true information about the development activities governor Rochas Okorocha is doing to ensure that standard of living in Imo State is improving drastically.
He stated that free education policy in Imo State had increase school enrolment from primary, secondary and tertiary institutions across the state. Which has make it possible for everyone child in Imo to have the right to acquire knowledge to built a better society.
The former commissioner for health hinted that in order to ensure that health facilities get to the common man, the state government is constructing 27 general hospitals one in each L.G.A in Imo State to help the citizens access a better and easy health care facilities across the state.
He stated that Okorocha's administration have opened many roads, reconstruct and expand roads to create additional routes in Owerri, Orlu and Okigwe Urban cities and extended to other semi Urban centers and communities in Imo state. He assured that if anyone travelled to Owerri and other Urban centre's in Imo he will witness a tourist, peaceful and hospitable destinations.
He debunked those critics hammering on the sculpture of Zuma in Owerri who do not understand that it is not only former present Zuma's statue was erected. He said that prominent Nigerian leaders and world leaders, including statue of Nnamdi Azikiwe, Dr. Alex Ekwueme and other leaders that have contributed their quotas in service to their countries and humanity are erected in the Imo hall of fames which is a tourist centre for education and enlightenment especially for the young.
On his part, Barrister Steve Asimobi, Special Adviser on Electoral Matters who co-coordinated the media briefing advised that the media should try and sourcet information from Imo state government so that they can fairly report the activities of the government in order to avoid unnecessary speculations and rumours. He hinted that issue of governor Okorocha's endorsement of his chief of staff, chief Uche Nwosu, is not well reported.
He stressed that party leaders across the LGA's visited the governor and informed him that they are supporters of Uche Nwosu as they believed he will continue the good work of Okorocha in providing a laudable achievement and development in Imo state. And the governor responded to their request telling them that though Uche Nwosu have not informeed him that he wants to run for Governorship however, if he is interested, he will endorse him because he is very humble and hard working and he believes that he can do very well if he is interested to run.
He opined that Uche Nwosu have every right as a citizen to contest even in advanced countries like America George Bush and his son were elected the presidents at different times, while Bill Clinton former president and his wife, Hillary Clinton also ran for the same position and nearly won.
He said people should focus on individual's ability and capacity and not his zone and other primordial factors.
The Adviser on Electoral Matters added that there is nothing like zoning in Imo state. He challenged people who believe in zoning to show him where it is in the constitution of Nigeria and where it is written and those who signed it.
He said there that is nothing like zoning in Imo state and that what Imo need is who will provide the needed good governance to improve their lives.