Uniosun Threaten "no Work, No Pay" Rule As Staff Join Nasu Strike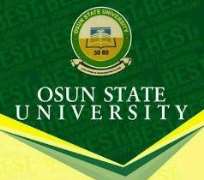 The Vice Chancellor of Osun State University, Osogbo, Professor Labode Popoola has threatened that the staff of the university who joined the ongoing strike by Non Academic Staff Union of Universities (NASU) will lose their salaries for the period.
The VC said the ongoing strike action by the non teaching staff unions was unnecessary. He said they should appreciate the prompt payment of their salaries in spite of the financial challenges in the State.
Briefing newsmen over the strike action, the Vice Chancellor noted that he had met with workers severally on the issue and others and made the financial position of the University known to them adding that non-academic unions members are not the only body affected.
Professor Popoola who blamed the inability of the University to pay the money on paucity of funds noted that despite the financial situation of the University, salaries were paid promptly, a situation he said does not obtain in most state Universities across the country.
According to him, the University is being funded through the Internally Generated Revenue, the bulk of which comes from the fees paid by students adding that other sources that are expected to contribute to the funding of the University are not doing so because of lack of fund.
The Vice Chancellor who said the University authorities have resolved to adopt the 'no work no pay' rule on adamant workers said attendance register has already been opened for workers to ensure that workers to go back to work.
Prof Popoola called on eminent citizens of the state, parents and guardians, students and well wishers to help prevail on the workers to return to work and give the University peace to move on in the interest of the students and service to humanity.
The Vice chancellor expressed surprise that the workers are not appreciative of receiving their full salaries while some categories of workers in the service of the same state government are earning modulated salaries as a result of meager resources at the disposal of government.
He lamented the insensitivity of workers to the plight of students who according to him will bear the burnt of the action.