Gov. Rochas Okorocha Insists: No blackmail can stop my son-in-law from taking over from me as governor of Imo State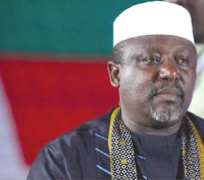 Imo State Governor, Rochas Okorocha, has said that no amount of blackmail would stop his son in-law, Uche Nwosu, from becoming the state governor.
Okorocha described Nwosu as a 'child of destiny', saying that no man could change the will of God in making Nwosu to replace him in 2019.
The governor who spoke through his Chief Press Secretary, Sam Onwuemeodo, in a statement on Sunday, absolved Nwosu of sending loyalists to attack the Archbishop of Owerri, Dr. Anthony J.V. Obinna.
The governor made the declaration in reaction to the social media alleging that Nwosu's loyalist attacked the archbishop.He said the alleged "beating, lynching, attacking or harassing" of the cleric was being investigated.
The governor's statement reads: '"We have as usual, read in the social media several versions of the purported beating of the Catholic Archbishop of Owerri Diocese, Bishop Anthony Obinna.
"He was allegedly beaten up by hoodlums or thugs or Entraco officials on the fictitious order of Nwosu, who is the Chief of Staff at the Government House."Those behind this latest blackmail said the incident happened at a burial Church Service in Mgboma, Obube community, in Ngor-Okpala Local Council Area."
According to the governor, the endorsement of his son-in-law as a favoured aspirant under the All Progressives Congress (APC) was flying in 24 of the 27 local councils in the state. Okorocha said Imo people, including youths; students, men and women have thrown their unalloyed support behind the youthful Chief of Staff, Nwosu for the 2019 governorship in the state.
"Seeing Nwosu as the guy to beat in the 2019 election, they now think that there is no other way to stop him rather than through unwarranted blackmail."That is the reason such a quintessential gentleman, and an embodiment of decency should be associated with whatever that transpired at the event in question.
"For weeks now, they have flooded the social media with one ugly story or another, against the young man. But to the Imo people, such elements are wasting their time. They do not know that when God has said yes to any project, nobody can say no," he said.
Meanwhile, The Guardian reports that the the Archbishop has debunked the rumours that he was beaten by a group loyal to the Chief of Staff.
The newspaper spoke with the clergy in a telephone conversation on Saturday evening.
The allegation was reported in the online blogs; Facebook and other social media platforms.
According to report, Obinna maintained that though he was against any form of what looked like undemocratic rule in the state and the country at large, he was not touched by anyone. He said: "Please, tell the people the truth. Nothing like that happened. No body beat me. But I saw them at the burial at Alex Mbata. I greeted them and left."