Police parade pastor arrested in connection with Imo bank robbery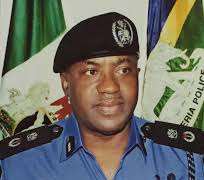 The last has not been heard about the bank robbery in Owerri, the Imo state capital, after the recent arrest of one of the suspects, the state command has made yet another arrest.
The suspect, Pastor Mike Anny, founder of Jesus the Rock of Salvation Healing Ministry, Owerri has been arrested and paraded by the Imo State Police for allegedly keeping rifles and ammunition for operations and praying for them as well.
Parading the suspect alongside another pastor who gives fake prophesies and over 50 other suspected criminals at the command headquarters in Owerri the state capital, the Commissioner of Police, Chris Ezike, says the police in the state will continue to provide robust security of lives and property in the state and ensure that criminality is brought to its barest minimal.
He added that in total, 33 kidnap and armed robbery suspects are being paraded, 14 suspected cultists, four suspected child traffickers, eight suspected false pretence and two suspects related to unlawful possession of firearms.
237 catchment ammunition, two double barrel, 79 cartridge belts, 27 live cartridges, one Ak 47 rifle, 10 English pistols, five pump actions and many more items were all recovered. (Channels Tv)