FIFA World Cup: Mikel Ready To Lead Nigeria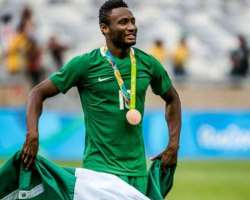 Super Eagles Captain, John Obi Mikel has opened up on his readiness to lead the Nigeria National team to the 2018 FIFA Mundial in Russia.
The Former Chelsea Midfielder is confident that his Chinese Club, Tianjin Teda are ready for the new Chinese League Season after escaping Relegation by whiskers last season
"It will be a daunting challenge and I'm looking forward to both teams doing well, but now I'm totally in Tianjin TEDA,
"It will be a long year for me. Now I have all my energy in Tianjin TEDA for the new season, I'll wait until after the start of the World Cup, I will transfer the same to the Nigerian team.
Mikel also revealed that he is ready to cope with the expectations of leading his Country and Tianjin Teda
'This year I have been well prepared to deal with the Super League and the World Cup, these two events for the two teams, I will certainly be balanced.
"I am looking forward to Tianjin TEDA to achieve good results in the Super League, but also hope that Nigerian team can go farther and better in the World Cup. "
"Last season, we prepared to go to many countries, but the training conditions and effects are more general. The preparation for the new season, the team's preparation is adequate.
"From Spain to Shanghai, the training effect is better than last year The whole team is getting better and better", he stated.