NFF Inaugurate Audit Committee and Technical Study Group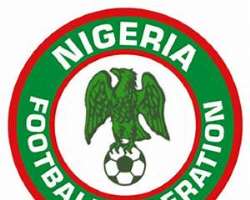 President of the Nigeria Football Federation Amaju Pinnick on Tuesday inaugurated the federation's new Audit Committee and the Technical Study Group at the NFF Secretariat in Abuja.
Former Super Eagles Players, Jay Jay Okocha, Taribo West and Victor Agali have been named alongside Tijani Babangida and others in the Technical Study Group.
According to the NFF President, Amaju Pinnick
"The Audit Committee will complement the efforts of our external auditors, Pricewaterhouse Coopers, and much is expected of them," Pinnick said.
"The Chairman, Alhaji Abba Yola, needs no introduction. He is someone who has seen it all in sports administration and we thank him immensely for accepting to serve Nigerian Football in this capacity. In due course, members of the Technical Study Group will be attached to the various National Teams to impact on those teams.
Newly Appointed Chairman of the Technical Study Committee, Abba Yola has promised to work for the Interest of all the National Teams
On his part, Yola said: "I commend the NFF for coming up with a panel like the Technical Study Group. We will work as a group and with the Technical Committee, and in the interest of all the National Teams, including the U-13."
Audit Committee: Sunday Dele-Ajayi (Chairman); Mohammed Alkali (Vice Chairman); Shariff Abdullahi (Member); Abubakar Ladan (Member); Yahuza Adamu (Member); Ayodeji Alabi (Member); Ezra Godit (Member); Ogheneochuko Ambakederemo (Member); Imama Tukur (Member); Isa Matori (Member); Suleiman Tegina (Secretary)
Technical Study Group: Abba Yola (Chairman); Taribo West (Vice Chairman); Bernard Ogbe (Member); Augustine 'Jay Jay' Okocha (Member); Tijjani Babangida (Member); Victor Agali (Member); Tunde Adelakun (Member); Adegoke Adelabu (Member); James Peters (Member); Clement Nwankpa (Member); Ibikunle Solaja (Member); Yusuf Dauda (Member); Ubale Yusuf (Member); Sule Gwagwarja (Member); Godwin Enakhena (Member); Mike Idoko (Member); Chukwumah Ubah (Member); Bitrus Bewarang (Secretary)