MANDELA FOR OPENING CEREMONY – GRANDSON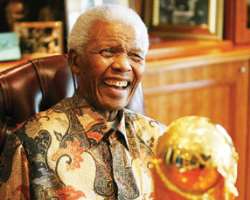 Former President of South Africa, Nelson Mandela, with the World Cup trophy … on Thursday.
Former South African president Nelson Mandela will attend the opening ceremony for the football World Cup but will only stay a short time, his grandson told AFP Tuesday.
'He will come and greet the fans … before he retires to his home,' Nkosi Zwelivelile Mandela told AFP.
'We're trying to see how long he will stay at the stadium. At least 10 to 15 minutes.'
Zwelivelile Mandela, who acts as the family's spokesman, had previously denied government claims that the 91-year-old icon of the anti-apartheid movement would be attending, saying he was too frail to make such an appearance.
Speaking on Sunday, President Jacob Zuma said he hoped Mandela would be present when South Africa take on Mexico but said there were no guarantees.
'He would love to be there. Whether he will be there on the day depends entirely on the former president,' said Zuma.
'If he did not appear, we would understand. If he is there, it will be a bonus for this tournament. We wish he would be there.'