Obiano Laments Death Of Achuzia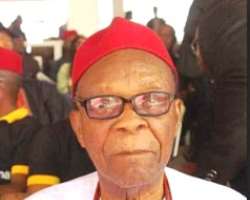 Anambra State governor, Chief Willie Obiano, has decried the sudden death of Ogbueshi Joseph (Hannibal) Achuzia, Ikemba Asaba who died in the early hours of Monday in his country home in Asaba, Delta State.
The governor who spoke through the Anambra State Commissioner for Information and Strategy, Ogbuefi Tony Nnachetta, in a press release and made available to our correspondent said, Obiano, received the sad news with shock.
In his words: "H.E. Governor Willie Obiano learnt with regret and emotion the news of the passing of Ogbueshi Joseph (Hannibal) Achuzia, Ikemba Asaba after a bout of illness".
He said the death of the former Biafran warlord, was the passing away of a star whom he described as legend and a patriot, "This is the passing of a legend and a patriot of the highest order. A man of service and deep convictions whose exploits in the sands of time can never be forgotten by our people, both young and old. His Excellency recalls his personal sacrifices at trouble shooting in Igboland and the well-being of our peoples in war and in peace".
He sympathized with his counterpart governor, Ifeanyi Okowa of Delta State, the Asagba in Council over the lost, "On behalf of the people and Government of Anambra State, Governor Obiano commiserates with his brother the Governor of Delta, H.E. Dr Ifeanyi Okowa, the Asagba in Council, Ohaneze Ndigbo and Nigerians on this monumental loss" just as he prayed that his (Achuzia's), soul to rest in peace.
Meanwhile, as at the time of filing in this report, the Delta State government has not made any official statement on the death of Ogbueshi Joseph (Hannibal) Achuzia, Ikemba Asaba.
It would be recalled that our correspondent had reported the death of a Nonagenarian Biafran warlord, Brig. General (Dr.) Joseph Oseloka Governor (JOG), who led the Biafran Battalion across the Eastern Nigeria during the Nigeria-Biafra civil war between 1967-1970, has passed on at 90.