Dame Okowa Advocates For Proper Child Nutrition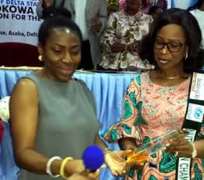 Wife of the Delta State governor, Dame Edith Okowa, has stressed on the need for parents especially mothers to ensure that the right nutrition is given to their children/wards to earn the child the rightful position in the society.
Speaking shortly on Friday after her investiture as the state's nutrition champion by the United Nations Children Fund (UNICEF) at the launching of the Scaling Up Nutrition (SUN) Initiative in collaboration with the state government held in Unity Hall, Government House, Asaba.
The governor's wife said, "Proper nutrition cannot be overemphasized. It starts from when the child is born", just as she noted that personnel of the state primary health care should take upon themselves to educate women on the importance of breast feeding.
Dame Okowa who is also the founder, O5 Initiative, a pet programme saddled with responsibility of taking care of the less privilege in the society, hinted that, "breast feeding is so importance especially in the first 100 days of the child".
She said the investiture was an additional call on her to do more in the society, "I am very careful of what I accept because what I cannot do because I do not want anything that is going to hinder me from meeting with my creator when I am gone".
She however noted that there was inadequate mobilization of people to the programme, "I want to tell us that we really did not mobilize well, the people that ought to listen to this are not all here. Will need to mobilize our pastors, general overseers, market women" revealing that when plan of action begins, "we will begin with the market places, that is where we are going to find mothers".
Dame Okowa noted that it does not take much money to get the right nutrition, "it will amaze you that if you do not have enough money to buy meat, Cray fish is enough. How much will it cost you to add vegetables to your meal? She asked.
She identified ignorance as a major problem which has caused malnutrition, "we have the meal but we don't know how to combine them", calling on all to be actively involved in scaling up nutrition in the society.
Also speaking, the Commissioner for Economic Planning, Dr Kingsley Emu, said the state has come a long way in addressing the issue of malnutrition "especially as it affects women and children in Delta State".
Dr Emu said the ministry has facilitated adequate budget for nutrition activities across key Ministries, Departments and Agencies (MDAs) of government in the mitigation of malnutrition.
He lamented that "recent advocacy outreaches embarked upon by the Food and Nutrition committee to key stakeholders revealed that the under nutrition among under five children in Delta State which previously showed significant improvement from 21.9% to 14.9% stunting rates based on survey data has indicated a sharp and significant increase to 19.9%. In the NNHS 2015, Delta State as well as states in the north with reported cases of bilateral oedema and global acute malnutrition prevalence of 7.2%"".
According to him, the scaling Up Nutrition Movement which is a global movement led by state governments in collaboration with the United Nations Children's Fund (UNICEF) and comprises of other stakeholders including civil societies, donor agencies and the private sector was apt.
The Economic Planning Commissioner noted that, "there is no gainsaying that investments of Scaling-Up Nutrition will yield immediate returns, save lives, enable children and their mothers to have a better future, contribute to livelihood, reduce poverty and contribute to the economic growth of nations which is the reason why our state is committed to this movement".