Ogbe-udu Rainstorm: Delta Government Assures Victims Of Assistance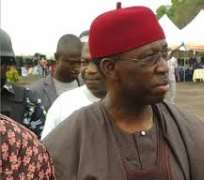 The Delta State government has assured victims of the Ogbe-Udu rainstorm in Udu local government area of the state that they are not alone as relief material and cash would be sent to them.
Speaking to newsmen Thursday after the Commissioner for Bureau for Special Duties, Ernest Ogwezzy, inspected the level of destruction, said what happened at the scenes were quit devastating.
He disclosed that government would send some relief materials in terms of cash or kind to ameliorate the sufferings of the people whose houses and buildings were affected.
"as part of our routine when things like this happen, we go and inspect the place and based on what we see on the spot, we will be able to make recommendations to the governor and on the basis of which one or two things by way of relief will be sent to the community and that is why we are here", assuring that the state government would sent relief materials for them as part of his commitment to the wellbeing of Deltans.
He assured them that through the State Emergency Management Agency (SEMA), the state would put mechanism on ground to ensure that the affected persons get whatever relief materials/financial assistance to the victims, "that is the only way government can identify with the plights of the people and to bring succor to them.
He advised them to be patient as government is on top of the situation, "soon they will see the hands of government", he assured them.
President-General (PG) of Ogbe-Udu Community, Deacon Godwin Okomitete, appealed to the government to be quick in its response as promised by the Commissioner, adding that the community would not disappoint him in the forthcoming election.
Some of the victims including the Bishop of God's Power Mission, the church which was affected, Reverend Ebrobakijusus Sele, said the situation was more than them, "if you get to my church, the way the storm affected my church, t is too much, calling on government at all levels to come to his assistance.
Another victim, Mrs Rosana Sokoh, called on government for assistance as she and her family have being displaced since the incidence.
It would be recalled that there was devastation in Ogbe-Udu, Udu local government area of Delta State when a rainstorm that befell the community, leaving it with no fewer than 30 houses, a shrine and a church shattered.
Trouble started at about 4:00pm last week Friday when the storm that last for about two hours took away the roofs of some buildings including mud houses to damage others.
A church, God's Power Mission and a traditional place of worship addressed as "Igbe" by the natives were not spared as the blocks of the new structure of the church that was being erected caved in to the wind and some parts of the roof of the "Igbe" house was blown off.