Re: To Be Grateful Is Divine- CPS Onwuemeodo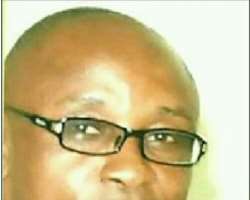 As I was reading the Imo local journals on Monday, February 19, 2018, I came across the WhitePaper's cover page caption: "To Rescue Mission APC Guber Aspirants- To Be Grateful Is Divine." The piece was a nice one, a eulogy from a grateful veteran journalist, who Divine Providence than serendipity brought to the corridors of the Douglas House, to scribe professionally, and as a good General and soldier, must die at his post in defence of his master.
Though the tone of Comrade (Hon) Sam Onwuemeodo has changed overtime unlike before, when he perhaps was 'worldly.' The Sam Onwuemeodo we knew before his advent to the Douglas House, used to be a 'fire-for-fire' writer with the likes of late Maximus Ubah (Nwa Mbaise), Citizen Samuelson Iwuoha, Prof Protus Uzorma, etc. Perhaps events alter personality carriage and purviews, but not truths and facts.
Of a truth, I joined Protus Uzorma to criticise Governor Okorocha's style of leadership, especially when he goes gaga. But I paused at a time I discovered one unparalleled disposition in the Governor's personality carriage and leadership style. I appreciate his unflinching love for youths in the State and determination to mightily build the careers of such youths within his reach.
In terms of capital human development and building of intimidating profiles for youths in the State, Rochas stands upright and I 'doubt' if he will ever have any contemporary in the next twenty years in the State, going by the crop of politicians that emerge daily, who do not believe like Prof Protus Uzorma and Prince McDonald Akanno that the youths are really the leaders of today. Rochas believes, respects, and pays homage to elder statesmen in the State, but has endeavoured much of his focus and interests in building youths to a fault that of recent, it has tended to favour mostly his extended families, customised in-group and exclusive few.
Rochas thus deserves great gratitude to this effect. It is not just enough to bring together such mega youths-block as the Coalition of Imo Youths of Prof Protus Uzorma in Ideal Suites Hotel, but to build the youths as one grows in power. Though, it is very obvious that Protus would have exceeded Okorocha if UPP had won the 2015 guber election in Imo. It is not just enough to gather youths across the 27 LGAs in the State like Prince McDonald Akanno is doing now with the Movement for Greater Today in UUC Global. The enough is, if Akanno truly has such opportunity like Okorocha, will he build youths to apex career?
It is not enough to gather youths to commemorate the inglorious 2 Million March of youths earnestly seek for Abacha's eyeless Vision 2020 by Chief Daniel Kanu, who is now projecting for blurred vision 2030. A vision with no perspective planning, will Kanu build the convened youths like Okorocha if he gets to the corridor of power? It is not enough to gather youths to aimless summits as the one had in the Rossy Arts Theatre on December 13, 2013. If Captain Iheanacho had won the guber election in 2015, would he have built youths like Rochas? The instances are endless.
In the beginning of his gubernatorial carrier, Rochas had dreams for youths' profile-building. It takes pre-existent visions for a Governor to carry along and build over time a number of presentable and worthy youths to the doors of power. An unbiased evaluation of human resources in Okorocha's government will show the desire to constantly build youths and at all time; to remember them in his programmes. His former and present Deputy Governors are approximately youths, and there were numerous youths Rochas raised in career and appointed as SAs, PAs, heads and deputy heads of departments, agencies, ministries and commissions, vital appointments in the Government House, and other appointments in various arms of government in the State, etc.
In this background and during his administration, Samuelson Iwuoha was then with Rt. Hon Ben Uwajumogu, Sam Onwuemeodo at the Governor's Press Office, Uche Nwosu at the Chief of Staff, and other retired youthful appointees of Uche Ogbuagu's set, etc. Later on, the likes of Kingsley Uju, George Eche, Obinna Mbata, Lugard Osuji, Jeff Nwoha, and many others rose solidly in Okorocha's administration and were well established.
In my opinion, Gov Okorocha has done marvellously well and deserves gratitude from not only the built-youths, but from Imo youths in general. It is true there are numerous unemployed youths and that the Governor cannot employ all, but he has done creditably excellent unlike his predecessors who treated youths with ignominy. The Governor's Millionaire Youths are also evident proofs to this claim, but insufficient to atone for the 10,000 jobs given to Imo youths by Gov Ohakim that he abolished and sent home unemployed, for the ennui the dismissed youths suffered, and for the crises he threw their families into.
These notwithstanding, gratitude and appreciation are indebtedness meant for the affected youths in general, and most especially, the parents and in-laws of the few youths Rochas built to be worthwhile in the State. If not for this consistent youths profile-building, who knows Uche Nwosu by 2007-2010? Was Sam Onwuemeodo not popular then?
All these apart, the truth must be told. This gratitude does not mean wholesale purchase of the Imo APC and gubernatorial candidacy to be Governor Rochas Okorocha's sole affair. Was he doing these goods to Imo youths in order to be and buy the biblical anointing-pot of Judge Samuel? Career and profile-building is for transcendence, and whoever builds youths, is a good father whose best prayers are for his children to either grow like him or above him. As the Catholic Sage, Anthony de Mello, said "The Master's skill is lost in the servant's non-possession of it."
The question of gratefulness to Rochas in Sam Onwuemeodo's purview, which necessitates bowing to the Governor's will, does not come here at all. It should have first gone to Chief Uche Nwosu, whose action going by Sam Onwuemeodo's perspective of being grateful to Gov Okorocha, first showed sabotage. Was Uche Nwosu grateful to his father-in-law, Gov Okorocha, when he contested for the Imo APC primaries and won in 2014; even when Gov Okorocha still has the constitutional powers to run a second tenure (though it was an arrangement)? Is that gratefulness of him or game, Onwuemeodo?
Is Gov Okorocha contesting again or is his wife, son, daughter, brother, sister contesting for the guber primary in APC? As a growing youth, has Uche Nwosu not got enough career-building over the 8 years; to be: Deputy Chief of Staff, Commissioner, and Chief of Staff? Truly, Rochas has been just, but to much selected few, in-groups and to his in-laws and extended family mostly. See Tony Ololo and his wife. See Prof Anthony Anwuka. See Uche Nwosu. See Prince Eze Madumere and Sir Jude Ejiogu. Has Rochas not done enough for them in career building? Must Imo APC sell its soul to Rochas to build one man all through life? Uche Nwosu has been well-built and can rule Imo now and very well, going by his present grooming, but there are other statesmen, youths and well-bred Imolites and APC chieftains that can do better. Imo needs the best candidates; let's allow them to emerge un-manipulated.
There is also the issue of equity charter and zoning of state politics that Onwuemeodo's pious vision of gratitude undermines. Truth is sublime like gratefulness, just as equity is greatly subliminal than sheer gratitude, and thus has transcendental attributes like justice and fairness. Is Uche Nwosu from Owerri zone that all glamour to take over the leadership of the Douglas House, and which since the inception of modern democracy in Nigeria (1999-2019) has not tested the apex seat in Imo State?
Out of the 20 years (1999-2019) of modern democracy in Imo, Orlu zone (where Rochas and Uche Nwosu come from) has ruled for 16 years and Okigwe for 4 years. Are the Owerri zone's zero year and Okigwe zone's 4 years just for pious gratitude before a 16/20 sharing and ratio? This piety lacks sense of fairness, justice and truth, and thus is far from God. Has Orlu zone turned to Imo State's Hausa/Fulani in Nigerian politics? Has Rochas turned to Imo OBJ? Is this the gratitude required of Rescue Mission APC?
Onwuemeodo by his purview of showing gratitude to Governor Okorocha, tends to push the State into the Nietzschean slave morality. We need the master morality and Machiavellian principles of submission to fiefs, in order to enforce equity and justice in Imo power-shift. Rochas' judicious tenure is running out, he has to go when it comes and not to enforce candidates on APC, except if Onwuemeodo wants to tell Imolites that his Boss is running again for the Imo APC guber, cache and by proxy in the person of his son-in-law, Uche Nwosu. If it is so stated, then gratitude comes up after researching on the ethics of gratitude on proxy, life-governorship, and self-perpetuation in power.
What Rochas should have done is to pick an average-aged industrialist from Owerri zone in the APC, who he trusts, like Barr Chima Anozie and then feature his son-in-law as Deputy Governor. This still builds higher, the career of the youthful Uche Nwosu, who youths in the State admire greatly. It will also restore the lost equity charter in the State, restore the confidence of APC members in the State, and thus encourage more youths. Truly, Rochas errs in trying to impose another Orlu zone guber aspirant- Uche Nwosu on Imo APC and the State in general. It shows insentience to the inequity umbrages of the Owerri and Okigwe zones' in the State.
Disclaimer:

"The views/contents expressed in this article are the sole responsibility of the author(s) and do not necessarily reflect those of The Nigerian Voice. The Nigerian Voice will not be responsible or liable for any inaccurate or incorrect statements contained in this article."