Osun State Adopt traditional means in handling Fulani herdsmen, farmers crises -Commissioner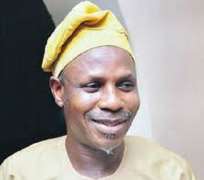 The Commissioner for Special Duties in Osun State, Honourable Mudasiru Toogun today disclosed that Osun State government adopted traditional means of settling crises between herdsmen and farmers in the state.
Toogun who is also the Chairman of the Committee on Peaceful co existence between Fulani/Bororo and Crop Farmers in the state, Honourable Mudasiru Toogun said this at the Correspondents' Chapel of the Nigeria Union of Journalists in Osogbo, Osun State.
The Commissioner lamented that some big men who own large number of cows are behind the herdsmen and farmers clashes in the country and that the big men are providing firearms for the herdsmen.
He noted that the idea of enacting Anti-grazing law will not help in addressing the clashes between herdsmen and farmers and that setting up of such laws could further complicate and aggravate the matters.
He said the committee is replicated in different local government areas across the state and that the committee at the local government level usually brief regularly issues and that he usually acts promptly and to prevent any matter reported to him before it would escalate.
Toogun said the committee is working with the Gan Allah Fulani Development Association of Nigeria to deal with cattle rustlers. We are using traditional means. It is a very unique way of dealing with thieves. "If someone steals and he was caught, he will swear with the Holy Quran that he will not steal again. He will confess all his sins and reveal his accomplice. Then, he will be warned not to steal again. If he goes on to steal again after that, he would die within 24 hours", Toogun said.