STEPreneurs, YAGEPreneurs Turns Songhai Amukpe To Campaign Ground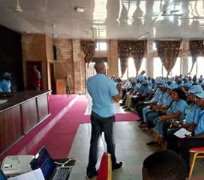 The alleged registration of the Peoples' Democratic Party (PDP) card carrying members into the job creation programme, otherwise known as the Skills Training Entrepreneurship Programme (STEP) and the Youth Agricultural Entrepreneurship Programme (YAGEP), is not far from the truth.
The training programme on Thursday 15th February 2018, at Songhai Amukpe, Sapele local government area of Delta State was turned to a PDP gathering/rally when the Job Creation Officer, Prof Eric Eboh, announced that out of over 15, 000 people that enrolled for the programmes only 745 made it.
This threw the entire hall into a rowdy section as some from different angle shouted "PDP" while others replied, "power to the people".
A male trainee, Oghenetomi Ejoboga, who was called to give vote of thanks to the state government on behalf of his colleagues went off-guard to continue with the PDP slogan but was called to order by Prof Eboh, who said if the governor was around, he would not allow the programme to be disrupted by any means.
A female trainee, who was called to speak on behalf of the female, abandoned her role and took a swipe on civil servants whom she said are doing nothing in the office.
Investigation also revealed that the N10, 000 stipend that was paid to the trainees while in the camp has been reduced to N4, 000.
It would be recalled that some Deltans who went to the Job Creation along Anwai road, opposite Temple Clinic Junction and former campaign office of the state governor, Ifeanyi Okowa, alleged that their forms were rejected as there was no stamp and signature on them.